The Gota Lejon Concerts - Rock Concerts In Stockholm 1980-81
Here at MaidenFans we occasionally receive samples of interesting Iron Maiden-related promotional materials or literature. Thomas Hägstrom was kind enough to send us a copy of his photo book covering an Iron Maiden and ACDC concert set at Gota Lejon in 1981.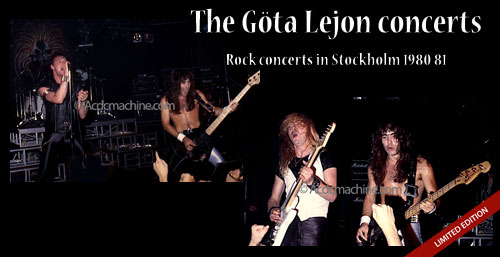 From the book:
The Göta Lejon cinema was inaugurated in January 1927. The seating capacity was 1300 including 500 on the balcony. During the early eighties it was used for concerts. Those were exciting years. Many post-punk rock and heavy metal bands played there.
In those days you were allowed to stand very close to the band playing.
Security was not as rigid as today.
There were no fences around the band - only 3 feet between you and the band and no problem shaking hands with the members!
Taking photos of the band was encouraged - if you had a camera you were asked to come as close as possible.
The state setups were plain and simple - the focus was on the music itself.
Thomas has done a beautiful job of restoring the photos and the book is gorgeous, printed on very high quality paper and making the best of these early images. We've heard that there are only 500 of these books to be made, with over 80 already sold, and we'd definitely recommend it to anyone interested in this period in Maiden's history, their Swedish gigs or Iron Maiden/ACDC fans. This is an exclusive glimpse into Maiden's early days - these pictures have never been seen before.
If you're interested, check out
more details and the order form
- the book is exclusively sold by ACDCMachine.com.
The Iron Maiden concert at Göta Lejon on the 8th September 1981 was part of the Killer Tour, with a set list of:
The Ides of March
Wrathchild
Purgatory
Sanctuary
Remember Tomorrow
Another Life
Genghis Khan
Killers
Innocent Exile
Murders in the Rue Morgue
Twilight Zone
Phantom of the Opera
Iron Maiden
Running Free
Transylvania
Guitar solo
Drifter
The lineup that night was
Steve Harris
,
Dave Murray
,
Adrian Smith
,
Clive Burr
and
Paul Di'Anno
.
Information about the book itself:

Title: The Göta Lejon concerts - Rock concerts in Stockholm 1980-81
Year: April 2010
Author: Thomas A Hagström
Publisher: Comdatsec AB
Format: 1.69 x 8.27 inches (29.7 x 21cm)
Print: De-luxe. Multiart coated Silk paper, 130g
Edition: Limited edition photo book. 500 only, each book numbered by author
Cover: Hardback
Pages: 64