Bruce Dickinson
Current band member of Iron Maiden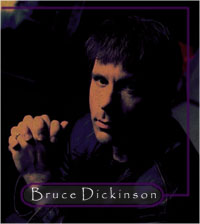 Bio
Born Bruce 'Bruce Bruce'/'Air Raid Siren' Dickinson, August 7th 1958 in Worksop, Notts. England.
Joined Iron Maiden in 1982, left in 1992 and returned in 1999.
Status: Vocalist who replaced Paul Di Anno after 1981's Killers for 1982's Number Of The Beast. Bruce would stay in the band up until 1992's Fear Of The Dark, before various musical and personal differences resulted in Dickinson pursuing a full time solo career. After various solo releases, his last three albums featuring Adrian Smith, 1999 saw him rejoin Maiden alongside H, while also vowing to continue his solo career, albeit having to put on ice. Bruce's latest proposed album is Catacombs, a collection of B-Sides, imports and out-takes from the varying years and albums of his lengthy solo career.
Formerly of: Samson
Song-writing skill: World class
Style in a nutshell: Trademarked for his extremely high voice, his 'rock operatic' wails, lyrical emphasis and his massive variety of vocal tones. Dubbed the 'Air Raid Siren' Bruce Dickinson is the classic voice of Iron Maiden.
Best Performance: Maiden England (Video, 1989)
Bubbling under: Live After Death (1985), Live At Donington (1993)
Background
As good as original vocalist Paul Di Anno was, or whatever your thoughts of Bruce's mid 90's replacement Blaze Bayley, whoever you prefer as your favourite Maiden vocalist, the bottom line is this — Bruce Dickinson is Maiden's golden era, classic vocalist.
The instant advantage Dickinson holds over his ex. Maiden vocalists are obvious — the way he chucks his vocals around in more styles than the changing state of fashion, and the fact that his vocal range has enabled Iron Maiden to be a much more creative song-writing force.
Bruce also happens to be the best songwriter vocalist in Maiden, and, with the exception of Steve Harris and Adrian Smith, Iron Maiden's finest musical contributor. If that hasn't convinced you, we don't know what will, but that's got to say something. Bruce can also play guitar (obvious really, or how can he write songs on his own?). He can be seen axe wielding on Revelations (on 1985's Live After Death video).
In the way of song-writing, think of Flight Of Icurus, Die With Your Boots On, Sun And Steel, Powerslave, Flash Of The Blade, Two Minutes To Midnight, Moonchild, Can I Play With Madness, The Evil That Men Do and Only The Good Die Young. Bring Your Daughter… To The Slaughter, Tailgunner, Wasting Love, The Wicker Man, Ghost Of The Navigator, Brave New World and Out Of The Silent Planet. Classic or quality Maiden moments, all penned or co-penned by Bruce.
Add to this magic Bruce solo moments such as Tattooed Millionaire, Born In '58, Son Of A Gun, Cyclops, Hell No, Tears Of A Dragon and Laughing In The Hiding Bush. Then there's his classic solo releases Skunkworks, Accident Of Birth and The Chemical Wedding — but then again, no surprises there — after all, he's only one of the greatest songwriters on this rockin' Planet. Bruce's most famed characteristic is his ARSe (!) — that is, his Air Raid Siren-esque voice, that has graced Maiden standards such as Run To The Hills, Hallowed Be Thy Name, Where Eagles Dare, The Trooper and Aces High in towering, high frequency style.
Obviously, numbers such as these would have never being realistic song options with your average free-range vocalist, but fortunately Bruce, with his walls of Jericho scaling vocal range, as earlier stated, threw the door wide open for Maiden to move into new, more adventurous track penning directions.
The Air Raid Siren is also well renowned for a style that is best described as vocals that are 'rock-operatic'. Basically, in the midst of singing many of Maiden's rock songs, when hitting certain notes (particularly high ones) Bruce tinges these with distinctive, opera like tones.
Though Bruce Dickinson as a singer really comes into his own when he uses his soaring range in conjunction with vocal aggression and extreme lyrical emphasis — regularly used by Bruce on every Iron Maiden studio album. If you check out his Number Of The Beast era performances (The 12 Wasted Years video shows some footage of this period) or the marvellous Maiden England video, this is the stuff exemplified — arguably the best of the Bruce.
The Later Period
In the 90's, Bruce took a new approach to his vocals. Suddenly, early 90's Maiden album's No Prayer For The Dying ('90) and Fear Of The Dark ('92) saw him take on a hooliganistic, demon-esque bite of a vocal that peaked on the likes of Holy Smoke, Bring You Daughter. To The Slaughter, Be Quick Or Be Dead and From Here To Eternity.
As fine as a vocal this was, it couldn't be re-created spectacularly live, and made Maiden's songs suffer a little on the Live front. That being said, it was a nice kind of gesture to the new wave or thrash singers from Hell (e.g. Phil Anselmo) that Bruce could equally invent a truly sulphur burning vocal to compete. That's the most logical reason why the Air Raid Siren adopted this studio voice at the time.
That's the thing with Bruce Dickinson, you see. Unlike many of his contemporaries, his vocals are never one dimensional — in other words, continually in the same style, song in, song out. As for singing in his purest voice, barely anything added, then Bruce's vocals on the likes of Live At Donington (1993) and particularly his solo album Skunkworks (1996) show him at his most basic and laid-back. His Live performances on last years Ed Hunter tour were also good cases in point.
There's still more expertise from Bruce's vocal fencing though yet. On two of his more recent solo album's, 1997/8's The Chemical Wedding, Bruce puts on a pure, yet an extremely dark, grinding, sinister voice that differs from anything recorded during his time with Maiden.
On the slower front, Bruce shows his wonderful talents via the likes of Wasting Love and the opening minutes of Fear Of The Dark to name a Maiden few. But Dickinson really comes into his own in this respect on his solo material, the likes of Tears Of A Dragon and Man Of Sorrows being two examples that just explain our words for themselves.
Though it's latest album Brave New World that must surely stake a claim for Bruce's finest all around Maiden album performance and possibly his best ever. On offer is his famed, Air Raid Siren vocal range (E.g. Ghost Of The Navigator, The Nomad), his bellowing rock operatic wails in perfect measures, (e.g. Brave New World, The Nomad), and shades of that crunching descriptiveness (e.g. The Mercenary, Out Of The Silent Planet).
Furthermore, we get Bruce's pure toned vocals (E.g. The Wicker Man, The Thin Line Between Love And Hate) and even hints of his Chemical Wedding vocals on emphasised bits (e.g. Out Of The Silent Planet - 'You are guilty' / 'I accuse You'). But how would an album featuring BD be complete without his smoochy smooth vocals? (e.g. Blood Brothers, Dream Of Mirrors).
It's all here, and we've only named a couple of examples there! Although it's amazing when you think it's the same singer on Live After Death, Hallowed Be Thy Name, Afraid To Shoot Strangers, Holy Smoke, The Evil That Men Do, Meltdown, Starchildren, King In Crimson and Jerusalem (the non Maiden tracks being from Bruce's solo career).
The changing sounds of Bruce's voice are incredible, and at times you could be mistaken for not thinking the guy your listening to isn't someone else! Bruce Dickinson may not have the purest voice in the World, but the thing what makes him arguably as good as any singer out there is his ability to take any of the various vocals at his disposal and use them to stunning effect.
That's undeniable, and it's surprising people don't pick up on this quality more often — not many other vocalists can say the same thing. Coupled with his vintage song writing abilities, and fine stage presence, Bruce Dickinson is the definitive heavy metal vocalist / front man, and in our opinion, as good an all around vocalist and front man as anyone on this damned planet. The only question that remains is what does Bruce have in store for us vocally next..