Steve Harris
Current band member of Iron Maiden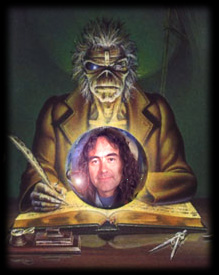 Bio
Born Steve ('Arry) Harris on March 12, 1956 and raised in Leytonstone, England.
Status: Founder member and creator of Britain's most loved heavy metal band, Iron Maiden.
Formerly of Gypsy's Kiss and Smiler.
First Bass: Fender Copy (possibly Shaftsbury)
Basses: Hayman, Gibson Thunderbird (Not used) Fender Jazz and Telecaster basses, Fender Precision basses ' 71 and '73
Bass Strings: Rotosound (Endorsee)
Preferred Basses Fender Precisions (see above)
Band Influences: Wishbone Ash, Genesis, Free, Thin Lizzy, Jethro Tull, Golden Earring, Led Zeppelin, Deep Purple and Black Sabbath.
Bass influences: Martin Turner, (Wishbone Ash) Andy Fraser, (Free) Chris Squire, John Entwistle (The Who)
Song-writing skill: World Class
In a nutshell: Fast, attacking player with a good mix of low and high-end sound.
Best Performances: Maiden England Video (1989)

Bubbling under: Live After Death (1985), Live at Donington (1993)
Background
Regardless of whom your personal favourite member of the Maiden crew might be, Steve Harris was not only the founding member of Iron Maiden, but Steve Harris is Mr. Iron Maiden. As much as it may hurt Bruce (Dickinson, vocalist) for us to say that, as a matter of straightforward truth, that is it.
Not getting into the history of it all too much but it was Steve's dream and vision to get the Maiden ball and the heavy metal ball in general, rolling and re-rolling respectively. In the midst of the punk era seventies, dominated by the likes of The Clash, The Sex Pistols and thousands of other hopeful wannabe's or wanna-dies in some cases!) times were tough to make a break.
Black Sabbath had broken the ice in 1970 with their classic debut of the same name. Instantly becoming 'the inventors of heavy metal', the Sab's built upon the distorted,heavy blues created from the likes of Led Zeppelin, and took it to a new, darker level. AC/DC and Motorhead would further support the cause ('Heads aggressiveness actually going down a storm amongst the punks!)
Though despite his love for these heavy metal bands, particularly and obviously Black Sabbath, Harris' musical influences revolved more around the likes of progressive and hard rock bands such as Led Zeppelin, Jethro Tull, Deep Purple, Free and Golden Earring to name a couple.
Most tellingly, Steve also had fond admiration for twin guitar bands such as Thin Lizzy and Wishbone Ash. This is from where Maiden's duel axe philosophy got it's idea, enabling a more powerful, attacking sound, the combination of lead and rhythm and guitar harmonies.
Although Maiden's first line up was in place as early as 1975, the band wouldn't get a record deal until 1979, (from which they released The Soundhouse tapes EP). Iron Maiden, the self-titled debut album, wouldn't be released until 1980. Events over those years would prove difficult, as line up changes took a ridiculous toll on the band.
It was Steve's ability and determination to carry on that paid off, and these are the principles that Maiden have always stood by and that have helped to make them such a revered and respected bunch of musicians. As we know, the rest is history. But the point is, without Steve's Harris's dream, his will to succeed and his never say die attitude, Iron Maiden would have never have had the chance to become one of the World's most sought after heavy metal bands.
Style
"Along with the likes of Geezer Butler and John Paul Jones, Steve is one of the most respected bass players in heavy metal."
Iron Maiden F.C. Biography for Steve Harris, 1999
There are several characteristics that say everything good that can be said about Steve Harris. The authentic 'bomber' Harris charge around the stage. The infamous foot on monitor stance. His Fender endorsed, West Ham encoded Bass. But most associating of all with 'Arry is this: -- those songs -- and that sound.
Before we even get to the man's song writing, on a purely playing level, Steve Harris is a bass player who, while sticking to a particularly identifiable sound, is an extremely talented player. Self taught, the first outstanding ability of Harris is his ability to deliver high-speed bass-lines in tandem with the guitarists, without the aid of a plectrum (or pick).
Then there's that sound. Up until hearing Maiden, it's fair to say that many people, including this gentleman, had really taken much notice of bass players, their plodding along rhythms hardly being heard or recognised. And, while this may sound controversial, the real decent bass players are the ones who stand out. Of course, that can apply in rock, soul, blues, jazz and funk bass playing or whatever else. But whether in the terms of technique, decent rhythms or likewise, the best can be both seen and heard in grandiose fashion. So with Steve Harris -- the man makes himself heard, and boy do you hear him -- you'd have to be deaf to fail not to!
The sound that Steve gets is that of charging, low end dissecting rhythms that is authentically 'Arry. Somewhat like the bass technique of 'slapping', (used often in jazz, blues and funk bass playing) Steve's sound is rather similar to this, but on a much faster and intense level.
The low end sound (the real deep bass rhythm) is retained, but the clunking, chunky high end sound (almost trebly) of this 'slapping' is Steve's trademark, often copied technique -- and what a great sound it creates! (For all you techie bassists out there, check out the boxed section!)
Technical: Steve's Sound & Equipment
Extracts from Guitarist, February 1991
Eddie Allen (EA): I noticed your live bass sound has so much top end that it's close to the sound a funk player might use
Steve Harris (SH): Well a lot of people have commented on that and it is weird, because they freak out when I tell them I just use 4times12 cabs. But they've got full duty EV speakers in them and I do get the full range, from the top right through to the bottom. It's a good tight sound -- not so much a bottom end rumble.
EA: Is the signal DI'ed to the main PA before it goes into your rig?
SH: No, the engineer just uses two mics on it, that's all.
EA: Presumably he EQs one mic for top and the other for bass?
SH: Yeah, my rig is pretty simple, and there are no real effects on it as such. I use Electron Preamps, and they're a virtual copy of the old Hiwatt. There weren't many of them made but I had a couple and tried to get some more but I couldn't, so the only way to get round it was to get somebody to build me some.
EA: Didn't I see some Hiwatt amps up on stage?
SH: They're just Carver slaves in old cabinets. I used to use RSDs but they're too big and bulky to be carrying about, so I use Carver slaves and connect up 4 Marshall 4times12s fitted with EVs. Remember, the bass sounds got to cut through when you've got two loud guitarists either side of you, and that's being my setup for about eight or nine years. The only thing that has changed is when I went over from RSD to Carver...
EA: It sounds like your using an active system on your bass...
SH: No, they're Seymour Duncan pickups. In fact I got a Seymour to make them pretty much the same as the Fender ones actually. I don't use active electronics or anything like that. I don't really use them because I find that the very simple. basic sound is better for me.
EA: As a rock player, do you find that bass players over complicate their sounds?
SH: It all depends on what they're trying to do. But as far as I'm concerned I suppose there are certain songs where I could try other things out, but at the end of the day I just enjoy going out and playing, and not having to worry about all that stuff. That's one of the reasons we ended up getting a keyboard player for Seventh Son Of A Seventh Son. Originally we were going to use foot pedals and bass synths and all sorts of stuff which we used on the Somewhere In Time album, but I just didn't want to be tied to running back to a certain point and pressing bass pedals. My bass roadie does a bit of keyboards, which comes in handy...
EA: You don't sound like the kind of player who's into experimenting with his sound
SH: No, I tend not to experiment too much because I've being so happy with my sound. It's being very consistent, and to be honest I'm not really interested in experimenting that much at the moment. Obviously I experimented an awful lot early on, to try and get a good sound, but then once I got it... Of course I do try other things out, because Mike's (Kenney, bass roadie and keyboardist) always bringing things along, but he hasn't come up with anything I prefer.
Interview © 1991 Eddie Allen / Steve Harris
Technique & Sound
"I realise the way you attack a bass has a lot to do with the sound. People have said they like my sound, then played on my rig with the same settings and it's sounded totally different... I like a really hard, tight bottom end rather than just something that's a wallowing sound. I like a lot of treble as well so I can cut through noisy guitar players! That's what I was trying to achieve in the early days -- to be heard!"
Steve Harris in Bassist, 1999. © 1999 Douglas McPherson / Steve Harris
Then of course, are the songs -- not merely songs, but the songs. Wrathchild, Murders In The Rue Morgue, Running Free, Iron Maiden, Prowler, Phantom Of The Opera, Run To The Hills Hallowed Be Thy Name, Number Of The Beast, Where Eagles Dare, Children Of The Damned, The Trooper, Aces High and Rime Of The Ancient Mariner.
What makes this even more amazing at present is a) We've only mentioned the purely Steve Harris penned tracks and what are generally regarded as 'classics' out of what he's written from those albums b) We've only got up to 1984's Powerslave! And then there were more... Caught Somewhere In Time, Heaven Can Wait, Alexander The Great, Infinite Dreams, The Clairvoyant, Seventh Son Of A Seventh Son, Fear Of The Dark, Afraid To Shoot Strangers, Sign Of The Cross, Fortunes Of War, The Clansman, Blood Brothers... 'kin Maiden heaven!
Just to try and give you an even fuller view of proceedings, Steve has co penned many, many more tracks with co-writers such as Paul Di' Anno, Clive Burr, Dave Murray, Adrian Smith, Bruce Dickinson, Janick Gers and Blaze Bayley over the last 21 years.
To give you some ideas... Sanctuary, Killers, 22 Acacia Avenue, The Prisoner, Total Eclipse, Die With Your Boots On, Still Life, Can I Play With Madness, The Evil That Men Do, Only The Good Die Young, Tailgunner and Holy Smoke. He also co-contributed everything on The X Factor, Virtual XI and Brave New World minus Man On The Edge and Como Estais Amigos respectively.
Steve Harris is a song-writing machine of the highest quality, and the material he uses is, (unlike much of degrading the run of the mill rubbish produced by his contemporaries) is, in a rock shell, simply top grade metal -- heavy metal, the way it should (and is) intended to be. Steve's bass influence in Maiden songs is unquestionable and undoubted. The opening bass driven work outs on the likes of Killers numbers Wrathchild, Innocent Exile and the title track itself.
Those storming, racy lines that zip from the likes of The Trooper and Phantom Of The Opera to name but two. The showcase opening rhythms that flood songs such as The Clairvoyant, Look For The Truth, Blood Brothers and Brave New World, inviting you to get lost in Maiden's bassy sea of brilliance.
The delicate within track melodies on the likes of The Number Of The Beast, Two Minutes To Midnight, Powerslave, Wasted Years, and particularly the backing bass solo to Adrian Smith's classic Stranger In A Strange land solo run, shows more to Steve than just all out metal guts.
If that wasn't enough, the exhibitionist solos and riffs on Blood On The Worlds Hands and Iron Maiden respectively is just enough to seal the fate of many HM bassists, their best response being something along the lines of 'b**tard'! And, if you want to hear trying out some more contemporary tones, check out his penetrating rhythms on The Fallen Angel.
Production
The guy also happens to be a producer, on the audio and video front. While co-producing all of Maiden's nineties studio efforts, and Maiden's latest, Brave New World, he's more than just a mad Upton Park toting Londoner. He's also played a huge role in the making of certain Maiden promo's, singles and videos, including Holy Smoke, Bring Your Daughter... To The Slaughter and the vintage Maiden England. Conveniently, he also has his own studios (Barnyard and his own label (Beast Records) featuring Dirty Deeds and Kick.
Conclusions
Jealousies aside, Mr Harris can't be faulted for all that much. In the ways of song-writing, he's wrote some merely average to good stuff, as with any writer, but as for real stinkers you're Quest For Fire, The Loneliness Of The Long Distance Runner Mother Russia, etc.) he hasn't written that many! Though he is the worst backing vocalist on the planet, doing for quality vocalists what Eric Clapton's voice does for his guitar playing. It's a shame Steve doesn't vary his bass sound a bit, and maybe opt for a few fancy things like two-handed bass licks and a few more slides. But then why change a winning formula?
With chemistry made up of tremendous song-writing and superb playing, who's to argue with that? Not us, Sir, not us! In summing up as purely a bass player alone, Steve Harris is one of the finest bassists in the World today. But don't just take our word for it:
#5: Steve Harris -- Iron Maidens ever present backbone, as well as its musical guiding light (Er... sorry, Bruce)

You said -- 'An unstoppable ball of energy and a superb player who delivers lightning fast lines of the likes of The Trooper and Phantom Of The Opera.' (H.U. Ahmad)
"Ten of the best bassists... Ever!" in Classic Rock Magazine, January 2000
Originally part of a feature by Andy Law and Neil Gibson