A Real Live/Dead One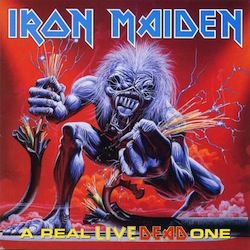 Fan Rating:
Unavailable /10
(from 0 votes)
Tracklist
You can help us out by writing the text for this section and e-mailing it to admin@maidenfans.com.
We said …
A Real Live Dead One is the 1998 re-released version of what was formerly two separate albums: A Real Live One and A Real Dead One. They are a collection of some of the best recordings from 17 separate concerts in the Fear Of The Dark Tour and Real Live Tour.
1 Review
---
I've been a big fan of Iron Maiden for about 2 1/2 years now, and I have to say that now that I own almost all their albums including this one, that this CD does not do them justice.



First off, this CD contains lots of not so-good-songs instead of classics, if only to balance out the songs in terms of what albums they're from. Where's Aces High? Where's Killers? Those songs are far better than Tailgunner and Wasting Love. I know that we don't want another set exactly like the Live After Death CD but c'mon. There's only one song from the amazing Somewhere In Time album, and yet there's FOUR songs from Fear Of Dark, well renowned for being one of the worst albums Dickinson did with the band (even if Fear Of The Dark and Be Quick Or Be Dead are good songs in their right - although they manage to make the latter sound awful here). There's not a single song from the Killers album. Where is Moonchild or Infinite Dreams? They've never been played live and they are far more worthy than some songs on here. The only songs which sound better live here are Where Eagles Dare and Fear Of The Dark. All the others sound pretty bad without the crisp studio production - I didn't even like Heaven Can Wait until I heard the studio version and Bring Your Daughter To The Slaughter is completely butchered by the time we reach the chorus.



Bruce's voice sounds tired, as if he's got a cold. The lack of Adrian Smith is probably another reason why this album falls flat on it's arse. Seriously, the band were great until he left, and then they went crap. Janick Gers may be a technically competant guitarist, but he doesn't have that bond with rest of the band that Smith had, and he's not as good as Smith anyway. Even classic songs on this album like The Trooper sound bad. Then Bruce goes solo after this live album and teams up with Adrian Smith again and they make a string of amazing metal albums (Under the name "Bruce Dickinson", oddly enough). Coincidence? Decide for yourself.



The only good thing about this album is a few songs which sound good, many songs which usually sound good, and Bruce working the crowd. Maybe if they'd done an album featuring only songs from 86-92, that way they'd have a wide spread play list from albums that weren't around when they released their first live album? That could have worked, I guess. All I know is that Live After Death IS a great live album by Iron Maiden. This isn't.