Dance of Death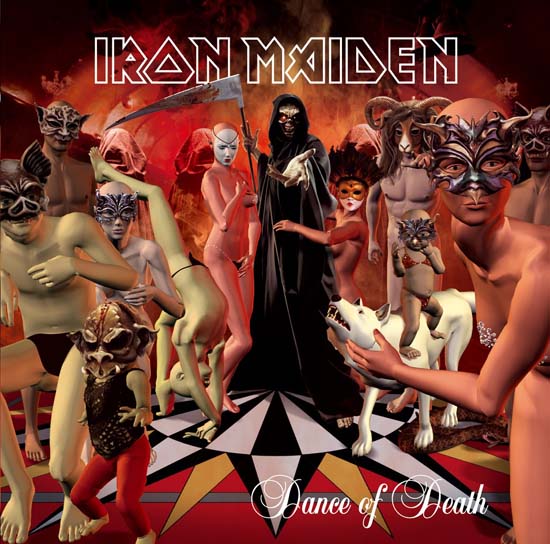 Fan Rating:
Unavailable /10
(from 0 votes)
Tracklist
Wildest Dreams
Rainmaker
No More Lies
Montsegur
Dance Of Death
Gates Of Tomorrow
New Frontier
Paschendale
Face in The Sand
Age Of Innocence
Journeyman
We said …
Dance of Death is probably the most controversial album from Iron Maiden so far, and this in several aspects. The first thing that can be noticed, like every time a new album is released, is the cover. This particular cover, realised by an unknown artist, has been the subject of many arguments among the fans, and this even long before the album was officially released and anyone had a chance to listen to its actual content. Deemed ugly and unworthy of an Iron Maiden cover by many fans, it has caused more polemic than the cover of The X Factor, which also constituted a radical change from Riggs's artwork, and that marked the end of an era - that of the Maiden-Riggs collaboration.
This album is not by any means a concept album, but the central theme of Death is recurrent in one form or another. From the necessity to live life to its full in 'Wildest Dreams' or the urge to make things right in 'Rainmaker', to the thoughts of someone who know his time is up in 'No More Lies'. The band also proposes a detour into the minds of those who had a close encounter with Death, like this strange surreal meeting with the undead in 'Dance Of Death', or the remisniscence of centuries-old death in 'Montsegur', or, closer again, the head-on crash with the absolute horrors of war in 'Paschendale'. There are of course a few off-topic songs, like 'New Frontier', that deals with the manipulations of life, or songs pointing out the sorry state of the world today - a subject dear to Steve Harris - like in 'Face In The Sand' and 'Age Of Innocence'. There is even what seems to be a criticism of the "Internet Generation" in 'Gates Of Tomorrow', with the allusion to the World Wide Web and the worry that it may represent our only future.
17 Reviews
---
I think, after a while of Maiden Material such as The X Factor and Virtual XI, they are back at the power of their music!!

Dance of Death is, just like Brave New World, a 6 piece line-up. And that worked out great.

Dance of Death is a spectacular album, reminding of the driven force behind The Number Of The Beast and even Piece Of Mind.

Especially Montségur and New Frontier are powerful blasts into your ears, but also songs like No More Lies and Paschendale are beautiful songs.

Conclusion:

Buy Dance Of Death, it's Maiden back at their Best!!!

Up The Irons!


---
Maidens new album named Dance of Death is an excelent album compared to Brave New World. While songs like the Rainmaker and Montesgur are heavy other good songs like Dance of Death and Paschendale are slower but still have the clasic Maiden style. Overall the album is good and i give it an 8 out of 10.
---
This is one of the greatest Maiden albums ever! They're back, and that's for sure.
---
People saying that Dance of Death is one of maidens wekaest albums don't know what they're speaking about. This is the most controversial yet fascinating album Maiden has ever releaser-in my opinion. Maybe not the very best, even if it's hard to say which would be the best, this album is still a fantastic record. We Love You Bruce, tahnk you for returning for BNW and DOD, two mindblowing albums!
---
"Dance Of Death" is a classic Iron Maiden album with songs like "Rainmaker", "Dance Of Death", and "Paschendale".

"Wildest Dreams is a great opener of a great album.

"Rainmaker" is one of my favourite riffs. Sweet Solo

"No More Lies" has an amazing intro, it's kind of eerie but exciting as well. Great Chourus

"Montsegur" WHOA!! Holy Crap the riff blew me away at the start and I was paralyzed for about half an hour after that.

"Dance Of Death" is an unbelievable song I knew the lyrics off by heart after two listens. Good Intro and Solo

"Gates Of Tomorrow" disapponinted me a bit but it has a truly rememberable solo.

"New Froniter" another great opening riff and Nicko McBrain's first contribution to writing for 25 years. About Time!! The best chorus on the album and good solo.

"Paschendale". How do Iron Maiden write this. it is unbelievable definaltely the highlight of the album.

"Face In The Sand" is a pretty cool song with an amazing intro and solo. It also has very good lyrics.

"Age Of Innocence" is a brilliant piece of material. The rap bit after the great solo is very un-Bruce like but it works like magic. One Of The best songs on the album.

"Journeyman" is a superb acoustic song, and my sister loves as well. It is my brothers's fav Iron Maiden Song
---
Brilliant Album. Dance of Death is unlike Hallowed Be Thy Name!
---
Paschendale and Dance of Death are two of the best Maiden tracks of all time, making the rest of the songs irrevelant, even though they are pretty much all very good. However, Age of Innocence and Face in the Sand aren't spectacular, but are decent songs still. Montsegur is amazing, the riffs and vocals are gut-busting! No more Lies is also a standout track, 3 solos back to back, amazing. Get this album, already on its way to becoming an all time Maiden classic.
---
WILDEST DREAMS: the worst song of the album. Brave new world opens so much better with The Wicker Man.
RAINMAKER: truly outstanding, Davey, you blow me away every time.
NO MORE LIES: tell me, what do you think of Dave Murray? or what about Adrian Smith? or howabout Janick Gers? well get ready people because they are 3 of the greatest guitarists who have ever lived, and they play some of their best solos back to back. Steve's lyrics are inspiring and the intro is sends shivers down my spine every time. can we kill rap with that? it would be nice.
MONTSEGUR: Janick sure can make a riff. what a chorus. is that my vision of an angel playing a harp i hear? no, it's Bruce Dickinson and Janick Gers. FUCK YEAH!
DANCE OF DEATH: the best song on the album, and Janick's best work, what a solo, you really need to see him play it live on Death on the Road.
GATES OF TOMORROW: molto bene.
NEW FRONTIER: i likey the chorus, i likey a lot. and it's about time Nicko wrote something.
PASCHENDALE: this song has a certian status on the album, but is nothing compared to the live version on Death on the Road, you must see the DVD.
FACE IN THE SAND: second best intro, second only to No More Lies.
AGE OF INNOCENCE: what a chorus, very anthemic, Dave Murray and Steve Harris would do John Lennon proud with such an anthemic chorus.
JOURNEYMAN:
the only fully acoustic maiden song. very touching, but once again, it is overshadowed by it's live performance on DOTR. the audience makes it so special.
OVERALL: Bruce, Dave, Adrian, Janick, Steve and Nicko...(exhale breath) you 6 are 6 of the greatest men to have ever lived. ROCK ON!!
---
I think Dance Of Death is the best Iron Maiden album so far, i love it. i hope to see songs like Montsegur, paschendale and dance of death later, they are great!
---
A bit of a disapointment, not as good like the previous one. The songs are too repetive and remains me of songs we have heard before. Wildest Dreams, Rainmaker, Pachendale and Journeyman are good though.
---
Dance Of Death is much more better than it´s predeccesor, Brave new world. I think it´s much more elaborated, the songs are incredibly epic and remaining the sound of maiden, of course. It is one of my favourites of maiden´s whole discography...the negative point I have to give to this record is that the Montsegur´s riff is almost the same than The fallen angel from brave new world! jajajaja...but well...it is an incredible album..just amazing...if you like records that sound different and musically almost a jewel, this is one you have to buy inmediately. Aguante Maiden Carajo!
---
Some good tracks but some horrible ones too. Production could have been better. Bruce vocals are not as good on some parts. Nice effort overall
---
Not the best Maiden album. Paschendale and Rainmaker are great, but nothing else stands out. New Frontier and Monsegur are alright. Wildest Dreams really sucks in my opinion ,and ive never, ever said a maiden song sucked before except for the angel and th gambler. with maiden, its usually Great or Good. This album paved the way for greaness though ith AMOLAD. Maybe i need to warm up to it more.
---
Great album, but with fucking crappy artwork!!
---
Another display of the power of the reborn Maiden, Dance of Death carries on the course set with "A Brave New World" with great riffs, melodies and vocals, combining the wall of guitars with the energetic vocals of Bruce and Steve's pounding bass. Oh yea,h and Nicko actually wrote something for this album. Virtually all songs are great and catchy and highly appealing to anyone who like high energy rock.
---
This Album kicked ass nicko song is amazing love this album
---
I think the album is good but the cover lokks like it's taken right out of World of warcraft.