Death on the Road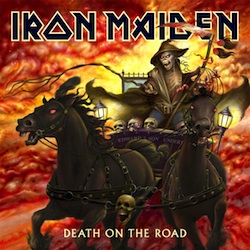 Fan Rating:
Unavailable /10
(from 0 votes)
Tracklist
Disc 1
Wildest Dreams
Smith, Harris
Wrathchild
Harris
Can I Play With Madness
Smith, Dickinson, Harris
The Trooper
Harris
Dance Of Death
Gers, Harris
Rainmaker
Murray, Harris, Dickinson
Brave New World
Smith, Dickinson, Harris
Paschendale
Smith, Harris
Lord of the Flies
Harris, Gers
Disc 2
No More Lies
Harris
Hallowed Be Thy Name
Harris
Fear of the Dark
Harris
Iron Maiden
Harris
Journeyman
Smith, Dickinson, Harris
The Number of the Beast
Harris
Run to the Hills
Harris
We said …
Recorded entirely during the concert in Dortmund on 24th November 2003, Death On The Road features "only" 7 songs that hadn't been previously officially released in their live version. All the others have been heard live many times before, and 'Lord Of The Flies' sung (screamed? massacred?) by Bruce Dickinson could have been replaced in the setlist by a more appropriate song. In any case, Iron Maiden are essentially a live band and this recording shows that these "dinosaurs of metal" are still able to perform admirably despite all those years already spent on the road (just ignore the overdubs!).
Although it's nothing fantastic, this album remains very good. It's a Maiden album after all! It is also dedicated to the memory of Manu Da Silva, landlord of Eddie's Bar and long-time friend of Steve Harris', who passed away during the 2005 tour.
1 Review
---
INCREDIBLE, AMAZING, SUPER, EXCELLENT, BRILLIANT, AWESOME, KILLER!!!
Every single damn song was damn friggin incredible. WOW!
I LOVE IT. I LOVE IT.