No Prayer for the Dying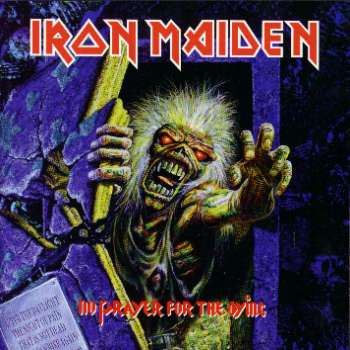 Fan Rating:
Unavailable /10
(from 0 votes)
Tracklist
Tailgunner
Harris, Dickinson
Holy Smoke
Harris, Dickinson
No Prayer for the Dying
Harris
Public Enema Number One
Murray, Dickinson
Fates Warning
Murray, Harris
The Assassin
Harris
Run Silent, Run Deep
Harris, Dickinson
Hooks in You
Dickinson, Smith
Bring Your Daughter… …To The Slaughter
Dickinson
Mother Russia
Harris
We said …
The first thing to say about No Prayer For The Dying is the departure of Adrian Smith and his replacement with Janick Gers. It was sad to see Smith go, for both his playing skill and song-writing talent. However, the show must go on, and it does.
With a few exceptions, the song-writing is a bit weaker and the lyrics are somewhat shallower than on previous albums. The sound quality is excellent (the album was digitally recorded), but many of the songs are missing that intangible quality that creates a deep and compelling mood.
In addition, Dickinson appears to be experimenting with a different singing style which is rougher and raspier than before.
Charted at number 2
18 Reviews
---
There is not one thing possibly wrong with this album,it is very heavy and very raw adding Jannick's sock em guitar. I will always defend Jannick Gers because it is a fact that he is an outstanding guitarist and just as good if not better then Adrian, however people just wont except the fact that the band had to move on right after the golden years with Smith. The production is quite excellent,their timing and capability is terrific and all of the songs flow very smooth together. Dave and Jannick are outstanding together, 2 solid heavy metal guitarist, with steve's clean lightning striking bass and songwriting,also Nicko's drums, this might just be Nickos best drumwork, and Bruce Dickinson's vocals have never been so raw on an album, its utterly breathtaking how he sings.



Tailgunner-If people are going to call this an aces high wannabe, then you might as well call aces high a where eagles dare wannabe, oh but you wont because that was in the early 80s.Besides this song has a different story talking abt. WW II and is so outstanding, very raw, everything is catchy on it too.



Holy Smoke-Great fun, hilariously done, the lyrics are so true. Talk abt. some major jamming, its a really fun maiden song and the guitar work on this is just outstandingly awesome.



No Prayer for the Dying-Very beautiful song, some of steve harris's best lyrics ever, the opening smooth lead is very intense, and when they start jamming in the middle of the song it gets very heavy and very surprising. Why anyone would consider this a weak track is beyond me, its just very smooth.



Public enemy #1-Great tune, fast and cool, steve's bass is just incredible how he makes it talk, and some of the best lyrics ever written again.



Fates warning-Great opener and Jannick's smooth lead solo in the beginning of the song is quite impressive, then when the jamming comes in its great, another great song abt. armageddon, and the way bruce sings the chorus is awesome.



The assassin-Very cool tune, the bass sound is very neat, it sort of reminds me of killing is my business abit. Jannick holds the solo quite well, never stops his fngers from moving and makes it a very mean solo at that, also Bruce sings this with very intense vocals like he did on De-javu, of course how the chorus is sung on this is awesome too.



Run silent, run deep-this is not a weak track at all, awesome lyrics based upon a killer war movie, jannick's solo in this kind of reminds me of his solo on the song dive,dive,dive from tattooed millionaire, as well as daves surprising guitar solo its quite striking then at the end of the song, its awesome to hear bruce's clean vocals with the clean guitar riff.



Hooks in you-an awesome wicked love song, the chorus again is sung very cool, this song is alot of fun to listen too.



Bring your daughter to the slaughter-A classic horror metal song, with an awesome solo by jannick and why anyone doesnt like this song is because thr just telling themselves its bad cause its Jannick playing it, everything in this song is perfect & is a maiden,metal classic, just listen too it.



Mother russia-Ahh a very cool political typeof song, the opening russian anthem riff is very cool with the cool sounding keyboards, it really fits the mood, and in the middle of the song the mid melody is quite lavishing, and this is a cool song for anyone who enjoys songs about politics.



All in all its a great album and has the great maiden sound minus all the synthesizers and tons of keyboards just a few keyboards. Its a simple album again, back to basic giving their early 80's metal sound, its alot like killers,powerslave and even a bit of 7th son. Well everyone wake up and realize what a great album this really is and is of course one of maiden's best. Please people really listen and see how awesome it is.

UP THE IRONS!!!




---
I don't think this album deserves its nasty reputation. Of course it's not as outstanding as the '80s stuff, but I still think it's a darn fine effort by any other standard. Adrian Smith left Maiden to pursue solo duties, and to replace him came one Janick Gers. Gers had previously played with obscure White Spirit, as "Jannic Gers" in an even more obsure project called Gogmagog (with Paul Di'Anno and Clive Burr - in 1985!!!), and in Ian Gillan's legendary solo band (Gillan - duh). Many fans totally dissed him for "ruining the Maiden sound" and so forth, something I think is a bit over-convenient. The problem, if we can call it that, with this album mainly lies in the songs themselves. Like the next album, there is too much filler crap like Tail gunner (Aces high-wannabe, about 1/600 as important), abhorrent The assassin, or Fates warning, which sound like B-sides at best. Guitars I never found a reason to complain about, and Gers is truly giving it all on stage, if nothing else. The sound is admittedly different, but not in a bad way, I think, and great songs like Run silent, run deep (not to be confused with the classic Raven namesake), the title track, Bring your daughter to the slaugher (yeah, of course it's stupid, but nonetheless...), and in particular the AWESOME Holy smoke make it all worthwhile, yeah. Holy smoke is easily one of my 20 favourite Maiden songs, and with a hilarious video to boot. Normally I hate music videos, because I think they draw the attention from what's important - the music! Nowadays it's a vital instrument for selling off crap by swinging a nice set of boobies around the place, which eventually has caused me to reject the entire concept of music videos itself, metal or no metal. The music industry truly disgusts me sometimes (all the time). Anyhoo...just think of this album as anything but Maiden, and you'll do just fine. Besides, we need a release like this once in a while, to fully understand that our heroes are just humans, like us.



Best songs: Holy smoke; Run silent, run deep; No prayer for the dying




---
Meh, its good music but for Maiden its not one of the best efforts. I love the guitar solos, Jannick is just plain nuts, I love it. Try to copy his solos! They don't even make sense, but they sound damn cool. Not much to say about this, I like the album I just don't think it compares to their other ones.
---
This is a fucking great album! the best songs are: The Assassin, Run silent, No prayer for the dying (beautiful) and bring me your daughter... ...To The Slaughter.
Everyone should have this album:P
---
MOTHER RUSSIA IS SOO COOL!!! ITS GREAT!!!;) and i must say- off course- the whole album is awesome. every fucking song. its soo cool!=) great. what can i say? i love it=)
---
I DON'T like this album, 'cause Adrian is not on it!!!!!!!!!!!!!!!! The only good songs are bydtts and tailgunner! The worst Maiden-album that has ever been done!!!!!!!
---
Without doubt this one is not like the '80 era albums, the big problem was that there wasn't Smith anymore...and his songwriting was unique, this album is underreted, it's a different way in comparison to previous SSoSS, this one is less epic and more difficult to understand, it's sad and his glamour is the degratation that trasmits to everyone, no more synth, only raw guitars on voice, it's like to be in the center of slum....it's fucking heavy metal.......
Listen and listen again this album before to pass a judgment!!!!
---
When Maiden released No prayer for the dying back in 1990, not only was it the first album with Janick Gers it was also the very first Maiden album I heard. From the bombing assault of Tailgunner to the epic tale of Mother russia, No prayer for the dying is a raw sounding monster compared to other Maiden releases with the exception of their debut album.
A clearly underrated album, but I still think It´s a great Maiden album. Compared to it´s follow-up; Fear of the Dark, it´s more of a steady ship that sails from point A to point B with almost no sidetrips. The only weaker track in my opinion is Hooks in you.
---
This Album Sucks Ass Badly In Every Way ... And I Hate It
---
The decline begins here. Some songs are ok like Tailgunner and Bring your daughter..the rest I can live without. Many songs sound like fillers. Too bad Adrian quit .
---
It is not one of their bests, but in my opinion it is a very well done effort, minding Adrian´s departure, who was the most important compositor behind Steve, you have to mind the difficult situation, cos they had to fill the hole that he left back. Janick was a great replacement, but that´s not all to fill, because a great part in the composition was missing. Instead of all, I think it´s a good album being born in the dawn of the nineties, which was a decade in abscence of most of the greatest rock bands. The only thing I really dislike of this album is Bruces voice, that sounds horrible, like it sounds on Fear Of The Dark...I always wondered why having such a beautiful voice he would turn to sing that way! Unbelievable! But, Bruce is Bruce, one of the greatest of all time...UP THE IRONS! Viva el pan y vino argentino!
---
Not a bad album, with some decent tracks, but some songs are quite average
---
At first it wasnt inviting, but after getting to lnow the album it reveals its different type of Maiden genius that we've seen before. A new approach, some call it the decline, i call it amazing. just because they took a differnt approach doesnt minimize the album. Every track with the excpetions of Holy Smoke and the Assassin are brilliant. Try to catch Public Enema No.1, Tailgunner, and Bring your Daughter live. No Prayer, FAtes Warning, Run Silent, and Mother Russia are all great studio tracks thry should play live. Hooks in you is alright, andHoly Smoke should not be representative of the album. A Great album! Although Janick is good, hes no Adrian
---
WEAK.After the masterpiece that was SSOASS, this was next? I could hardly believe it. Only song I like is Mother Russia.
---
I think this CD is good in it's own way. It has a lot more harder and rawer edge than most Iron Maiden releases, this honestly being my favourite, other than 7th Son. The CD opens with Tailgunner, quite a good song, heavy on guitars which is always nice in some cases, too bad Dickinson's voice wasn't in top shape on this one, for the fact that he didn't have that air raid wail from past previous albums. I had mixed feelings about Holy Smoke, didn't really care for that one, maybe because it starts off so different than most Maiden songs. No Prayer For The Dying is a great slow melodic symphonic song that pretty much throws me into la la land, its very soothing and relaxing, great melodies and vocals, kinda something that you would hear now if i can say that. Jumping to Mother Russia, another great song, bass and cymbals collide to make a great combination of intense feelings.
---
What the...? When I wrote this, this album only had an average rating of 6.3. Why? It's a great album. Okay, Adrian Smith had left, and surely, something is missing on the album in comparison with the earlier ones (and the later ones from 2000 and onwards). To replace Smith, they brought in Janick Gers, who is a great guitar player and an absolutely fabulous showman. While not replacing the loss from Smith's departure, Gers did surely bring something new to the band. The albums itself contains some great songs like 'Tailgunner', 'The Assassin', 'Mother Russia', 'Run Silent Run Deep', 'Public Enema (yuck!) no 1' and so on. It's also one of the few albums with Murray pieces on it, revealing his talent as a composer. Interestingly, the least interesting songs in my view are the ones that became the biggest hits - namely 'Bring Your Daughter to the slaughter' and 'Holy Smoke'. While surprisingly simple, the title track is among one of the best and most catchy of their more ballady songs and offers some great guitar melodies in the begining. It is also here that Bruce introduces a raspier way of singing, which works out great in conjunction with his operatic style, although I think he's better at combining the operaticness and raspiness on the following album. No Prayer for the Dying is a great Maiden album and certainly deserves a top rating.
---
This album was much better than the later Virtual XI. If this was the beginning of the end, then it sounded great! I love Mother Russia, one of my Maiden favorites. I think this album doesn't stand up against some Maiden albums, but I'm not sure it was supposed to. It was fun to listen to and I liked Bruce's new vocal style (like on Tattooed Millionaire). What other album should have followed Seventh Son? Honestly, this album isn't my favorite, but it sure isn't the worst!
---
Very god album, the 5 first songs are very god, the rest not bad, BYDTTS the best song on the album.