Piece of Mind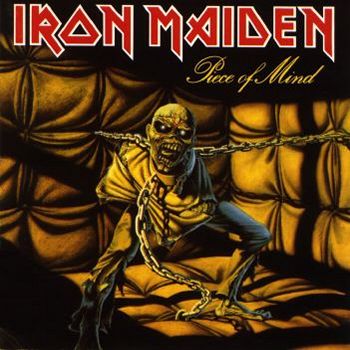 Fan Rating:
Unavailable /10
(from 0 votes)
Tracklist
Where Eagles Dare
Harris
Revelations
Dickinson
Flight of Icarus
Smith, Dickinson
Die With Your Boots On
Smith, Dickinson, Harris
The Trooper
Harris
Still Life
Murray, Harris
Quest for Fire
Harris
Sun and Steel
Dickinson, Smith
To Tame a Land
Harris
We said …
Commercially Piece Of Mind was a huge success, and was even voted the number one metal LP of all time in a KERRANG! magazine poll. It was also the first album with drummer Nicko McBrain, completing a line-up which would last through four studio albums — the longest stable line-up in Maiden history.
Charted at number 3.
15 Reviews
---
This is by far Maiden's best ever album. Die With Your Boots On has the best non-Bruce vocals of any Bruce song. Still Life has the best storyline of any song EVER! Revelations uses lines from the English Hymnal. "O God Of Earth And Altar" We sing that in church! Quest For Fire is indeed the most poorly written Maiden song, but still has an opening riff that will make you listen to it anyway. I suppose Flight Of Icarus and The Trooper are any uneducated Maiden fans favorite song, because of their appearances on several live and greatest hits albums, but Die With Your Boots On is the real gem. In conclusion, if your going to buy any one Maiden album, this should be it.
---
Not to let you off the hook after the breathtaking Number of the beast, comes another timeless masterpiece of thought and creation. Piece of mind, by many regarded the quintessence of the Maiden catalogue. Clive Burr is out due to certain aversions, replaced by the biggest psycho in music, Michael "Nicko" McBrain (quite possibly - bloody likely! - why there are so many references to "minds", pictures of brains, etc. on this album). To me, he is very good, but not quite on Burr's level, and is really more exciting as a person than as a musician . His skills are swiftly shown off in a Painkiller-ish fashion - by simply letting the new drummer have the first seconds of the album and unleash. He does it very well - although just for a few seconds - and by no means fail the humungus expectations I have on the first song. In my opinion, Clint Eastwood is as close to a God as one man can get (sorry Rob :) ), and songs about him or his films better not be less than god-like. Luckily, Where eagles dare delivers. In fact, first six all rule like there was no metal before or after. Revelations is the forerunner to Powerslave - both written by Dickinson - with equally mindblowing historical lyrics and infernally delightful tempo-changes. One of the singles from this album is Flight of Icarus, simple and relented, yet so immensely powerful (and with one of Maiden's greatest guitar solos). Die with your boots on is a bit on the cheesy side (the bridge) - which is a shame since the song title is so fuckin' cool! A great rocker nonetheless, and The trooper...ho ho ho...I don't need to go there! Still life is the sorta title track here, and one of Maiden's most underrated songs, I think. A truly spooky piece about someone slowly going mad, the first part of the instrumental break (after the "...will give me piece of mind") is not explicable in words. They are all indeed quintessential Maiden and milestones on the metal highway. Tracks 7 and 8 are shorter and more fillerish, but I think they're both ok, just lame compared to the other freaks. Epic To tame a land is also great, but still a notch below the opening six-pack of devastation. I actually like it better than both Rime of the ancient mariner and Alexander the great, which are arguably a lot more popular. Not too long (unlike Mariner) and with great music (unlike Alexander), a worthy exit of this display of brilliance that is Iron Maiden on the peak of perception. Production by Martin Birch is as usual excellent, no instruments are overshading the others or falling behind, not even the notorious bass guitar. Why I mention that is because another trademark is beginning to take full form here, the gallop (initated with Run to the hills), best showcased in The trooper, Die with yer boots on and Sun and steel. Definitely the "classiest" Maiden album, although some would give that title to Powerslave. Obtain this one, it WILL make your day.



Best songs: The trooper; Still life; Revelations




---
The defenite masterpiece of Iron Maiden. All killer no filler. Indeed, no filler. In stead of what some people seem to think both Quest For Fire and Sun And Steel are amazing.

Best song is easily Flight Of Icarus, also one of Maiden's best songs. Good riff, catchy chorus and a great solo.

Other best songs are Where Eagles Dare, one of the best riffs ever! Die With Your Boots On, what a solo! And To Tame A Land, epic!

I used to think Revelations was the best song of the album, but my opinion changed, this song is quite good but it doesn't really seem to fit on this album. Maybe a bit too slow.

Then there's that song everyone seems to hate, just because of the lyrics. Quest For Fire. Sure, it's not the strongest song of the album, but it's defenitely not just a filler. It's got a good riff, very nice verses with amazing vocals by Bruce and the instrumental part in the middle is absolutely awesome! The lyrics aren't good, but music comes first for me, and good music they deliver!

Sun And Steel is underrated, especially the chorus is very good. Very catchy.

Still Life has some very nice guitar-work but it's not really memorable in my opinion, The Trooper defenitely is but after hearing it a thousand times it's not that good anymore. The song is actually pretty simple, and could almost be called filler, but I won't cause I said this album didn't have any.

As I said, this is the masterpiece of Iron Maiden, this is where their songwriting was best. Maiden's best, and of the best Heavy Metal albums ever!
---
Piece of Mind is a definate geat. With some of their best songs like the trooper, flight of icarus, revelations, and one of my personal favorites, still life. Its not the greatest album in my opinion just because its so inconsistant. It has some really good songs but it also has some not so great songs like die with your boots on, quest for fire, and to tame a land which is just ok. Id get Powerslave number of the beast and somewhere in time before it. Its a great album just inconsistanat.
---
OK, forgetting the reason that "Piece Of Mind" is my favourite album, i'm gonna review this totally unbiased.
The opener "Where Eagles Dare" with the huge drum intro and great chorus sets the scene for the album. "Revelations", by far the best track on the album (Others may disagree) and follows what "Where Eagles Dare" began. The intro with Bruce singing a excerpt from the English Hymnal, (the excerpt was written by G. K Chesterton) and comes into a solemn track with the best qualities. Classic Maiden! "Flight Of Icarus" is one of (In my opinion) the two weak songs on the album, the other being "Quest For Fire". It sounds so much better live, as 'Arry had said. Next song "Die With Your Boots On" is also classic Maiden. The harmonies, the riffage, everything. A great song.
"The Trooper" one of my favourite Maiden songs ever, despite falling behind "Revelations" on my favourites list, is the song that will really get people into Maiden. "Still Life" is a good song, born from 'Arry and Davey's exceptional heads. That's really all I can say about it. It's good, but it ain't that good. Oh, apart from Nicko's great backwards voice at the start. "Quest For Fire" and "Sun And Steel" are good songs, with cheesy choruses and Murray/Smith riffage. Funky! Lastly, "To Tame A Land" which is one of my favourite album closers. What a better way to end than a song with a concept on Dune, a great book. Ranking in at 7:29 minutes, it seems quite a short album closer than we are used to; think "Rime Of The Ancient Mariner" and "Alexander The Great" but it's still great.
---
"Piece Of Mind" is an unbelivable album containing songs like "The Trooper", "Revelations", and "Still Life". The only flaw of the album is "Sun and Steel" which has a riff similar to the galloping of "Die With Your Boots On" and "The Trooper". It's weird I love "The Trooper" but I don't particularly like "Sun And Steel" but they both have practically the same riff. "To Tame A Land" is also pretty sweet.
---
Amazing album, only low point is Quest for Fire, but it's still a decent song. Revelations, Where Eagles Dare, To Tame a Land are really good songs. Still Life is a masterpiece. Sun and Steel has a very catchy chorus, and is good song depsite what some people think. Flight of Icarus is just unbelievably amazing!! Solos are ridiculous and the riff is so damn heavy, why didn't they play it on their Early Days tour!!??!! The Trooper is a good song and fun to play but good lord they play it alot, too much I think. Die with your boots on is a good song but not a Maiden classic in my opinion. One of their best albums overall, so get it.
---
This to me is the greatest work by Maiden I have ever heard. It may be for one that this was my very first taste of Maiden ever, but it's also great to me beacause I love the drumming to this CD. I am a drummer myself and love a challange. Nicko did a great job. The Album is catchy and fun for those long car rides. The best songs on this song have to be: Where Eagle Dare, Die With Your Boots On, Flight of Icarus, The Trooper, and Still Alive. The Trooper is my all-time favorite song. That is the song that got me into Maiden for life.
---
A great album! i especially liked'The Trooper'!
---
I love this album. From the hectic force of Where eagles dare to the majestic To tame a land this album rules. Classic !
---
This album continues the greatness started with Number of the Beast and takes it to a more complex level with the technical skills added by Nicko. (I love Clive's thrashy passionate drumming though)Still Life ,Revelations, and the Trooper are this albums highlights, while also Where Eagles Dare and the Flight of icarus are alright. Be sure to catch live versions of Revelations and the light of icarus! Quest for fire, sun and steel, die with your boots on and to tame a land are not as stellar as the rest of the album although at some points are worhy. This album would rank higher if it had a better ratio of good to poor songs. the good are fantastic though. enjoy!
---
Incredible, superb...piece of mind was the best album anyone could imagine to follow The Number Of The Beast...I think it´s probably maiden´s most different work...it´s sound is different than any other maiden album before and after..well, I think that all maiden albums are very different from each other...but this is a masterpiece...and the beggining of the classic maiden with the arrival of Nicko on drums. I won´t say it´s better than the number of the beast, but it´s something that can´t be missed to listen to.
---
The first album with the golden line-up of the 80s, Piece of Mind is a formidable collection of great metal rockers. Virtually all songs, both hits and the more obsure ones, are just earpounding great. The opener 'Where Eagles Dare' just sets the tone of this absolutely fantastic album. I especially recommend 'Still Life', 'Quest for Fire', 'Sun and Steel' and 'To Tame a Land' which originally appeared on side B of the vinyl record version. They are typically not as well known and praised as the songs on the A-side, but they are at least just as good, and 'Sun and Steel' has one of the catchiest chorus lines of all time. The only downside to this album is the production sound - especially the guitars - but this is not enough reason not to give the album 10 out of 10.
---
AWESOME
CD
THE FLIGHT OF ICARUS,THE TROOPER AND
R
E
V
E
L
A
T
I
O
N
S
---
Front to back gold. From the technical brilliance of Nicko's drum intro to Where Eagles Dare, to the dazzling guitar work on The Trooper, to the superb lyrics of Revelations, to Steve Harris' writing on the album's closer, To Tame A Land, this album sums up everything that is great about Maiden. I love EVERY track on the album including Quest For Fire and Sun And Steel. In terms of the listenability of it as a whole, it tops every other Maiden album, with the exception of, perhaps Seventh Son. This album is a diamond surrounded by Maiden's golden years.