Powerslave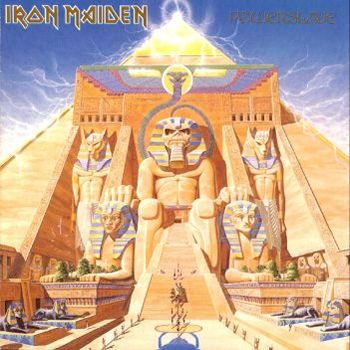 Fan Rating:
Unavailable /10
(from 0 votes)
Tracklist
Aces High
Harris
2 Minutes to Midnight
Smith, Dickinson
Losfer Words (Big 'Orra)
Harris
Flash of the Blade
Dickinson
The Dualists
Harris
Back in the Village
Smith, Dickinson
Powerslave Dickinson
Rime of the Ancient Mariner Harris
We said …
Powerslave represents the essence of Iron Maiden at the pinnacle of their "golden age", and is the first album without any lineup changes in the band. No other album so clearly captures the spirit of power, fantasy, and emotion. The album cover perfectly sets the mood of power and mystery. The songs are for the most part superb, with four of them becoming timeless Maiden classics.
Charted at number 2.
12 Reviews
---
This is one of Maiden's best efforts, probably only behind Piece Of Mind. Aces High is a song loved and cherished by every Maiden fan, but ranks about third on this album overall. 2 Minutes To Midnight is by far the best song on the album, and perhaps even of all time. Losfer Words ranks as Maiden's best instrumental song and second on the album overall behind 2 Minutes To Midnight. Flash Of The Blade seems almost to be a precursor to Anthrax's rap metal of the early 90s. The Duellists is a joyous romp with Losfer Words-like riffs. Powerslave ranks behind only Number Of The Beast for best title track. Back In The Village is pretty good, but nothing special. Rime Of The Ancient Mariner is considered by many the best Maiden song of all time. It is still a great tune, but it could be shortened to about 7 minutes if that slow middle part was cut out or reduced. Still, it is the perfect closing track to a great album.
---
Powerslave as an album is very different to any other album in many ways. One of the biggest differences that spring to mind, are the length of the two singles. Both singles are over four minutes long which is quite un-usual for IRON MAIDEN singles, it is also (sadly) the last maiden album to have an instrumental in it, it has epic tracks such as "Rime Of The Ancient Mariner" to its name but doesnt have the songs that gets the crowd going like other albums (Iron Maiden,Wrathchild). Despite that, it is a very good album, and the tour that followed was the most extensive maiden have ever done.
---
Powerslave is by far one of Maidens greatest albums, it continues to amaze me everyttime i listen to it. It is one of the few cd's that i can listen to straight through. The song Powerslave is a classic and the album is def. a keeper.
---
I don't know exactly what to think about this album. Surely a huge effort by any other standard, and the world famous first two/last two all but deserve their reputation, but I still wouldn't rank it alongside The beast, Piece of mind or Seventh son, as most people obviously do. Simply because, IMHO, only the songs listed below as "best" (plus closing Rime of the ancient mariner) are really above average. They are all more than brilliant enough for the high rating. Aces high for example - my second favourite Maiden song, and quite possibly THE most definitive metal piece ever recorded (and a strong contender with The hellion/Electric eye for the title "most definitive album/concert opener ever"). I have nothing but good to say about it, and it's the task of ages for following 2 minutes to midnight to succeed it with dignity. And it does not let down! Awesome lyrics and a main riff similar to Accept's Flash rockin' man (but not quite) make it another timeless Maiden classic. After that promising due the album plummets in quality. Losfer words, as the title implies, is an instrumental, and a darn weak such. Unlike Transylvania or Genghis Khan, it has no climax or clear focal point, which could be considered a mortal sin for instrumentals. Flash of the blade should've been the instrumental here (it's only decent during the breaks, and Bruce is downright annoying). The other mid-tracks, The duellists (shameless Where eagles dare-clone) and Back in the village, I often skip as well (although the latter is pretty good). I somehow get the feeling these four middle songs are very perfunctory - fillers if you like - and whose only purposes are to show off some supposedly neat guitar lines. Oh well, the last two tracks pick up where the first two left off, starting with the absolutely brilliant title track, Dickinson's successor to his own Revelations. A moody and indeed powerful piece, like Revelations heavily inspired by Egyptian mythology - even more brilliant in conjunction with the wonderful cover art! Rime of the ancient mariner is another classic, truly excellent at parts, but a few minutes too long for my liking. Speaking quality (not stylistically), this is the most inconsistent Maiden album, and only four great songs is not enough for the highest rating. Nevertheless, 2 minutes to midnight, Mariner and the title track are undeniable cornerstones in the Maiden palace, and Aces high rocks all over the place. As for the rest, I might just be missing the point.



Best songs: Aces high; Powerslave; 2 minutes to midnight




---
powerslave in my opinion is the best album of all time. Just over number of the beast With aces high my favorite song and 2 minutes to midnight another great song its my favorite album. Ive heard people say that a lot of the songs are just fillers but the worst song on it i think is back in the villige which isnt even that bad. right after midnight is loserf words or whatever the hell its name is but its a good instermental. then flash of the blade one of my top 20 iron maiden songs. then theres the duelests which i think is a good song but not a great. after that is back in the villige just an ok song but strait after that is powerslave in awsome song, and then the one an only rime of the ancient mariner a song that gets you on your knees worshiping harris's wrighting skills the song has like 10 different main riffs and just a great song that keeps getting better and better throughout the song. i recommend powerslave as awesome album and if you dont have it get it NOOOOOOOOOOOWWWWWWWWWWWWWW!!!!!!!!!!!!!!!!!!!!!!!!!!!!!!!!!!!
---
Yes! Thats right!! Coming straight from the USA, I must review this Album as it being an excellent classic of (i think) Iron Maiden's most successful releases. Songs such as Aces High, 2 Minutes, Rime, The Duellists, and the awesome instrumental Losfer Words (Big Orra) i must say that this is PURE METAL! I really enjoy listening to this album as it being my very first Iron Maiden material that I actually bought back when i was 13 or so, I bought this on cassette at that. So yes i heard this album over and over and then i was hooked! The riffs and bass on here are excellent as always, great melodies and vocals as well. I know need to review other Albums.....

UP THE IRONS!!!!
---
Aside from almost every song having an E minor, to C, to D chord progression in it, this album and all its songs are just amazing! One of Maiden's best albums. All songs are great and most are well known enough to need no discussion but highlights are definitely the title track and Rime of the Ancient Mariner, ROTAM is one of Maiden's best songs ever and a top ten fav of mine. It is pure genius, so many lyrics, how did Bruce remember them to play it live?! The riffs in this song are great, so heavy! The long bit in the middle with the guy speaking from the poem is a bit long and annoying at times, but it builds tension for when Steve's bass comes in and the song kicks into overdrive. Great solos too. Get this album.
---
Aces High: the 3rd best song, great single, great story,
great solo's,
great song.
2 Minutes to Midnight: great riff, great everything really, oh how could i forget, what a bass performance.
LW(BO): the weakest maiden instrumental, and ties with Flash of the Blade as least fav on the album. but it's still awesome.
Flash of the Blade: one of the weakest Bruce Dickinson songs ever. if this album has a let down, this is it. but it's still good (after all, this site is Maidenfans.com)
The Duellists: very underrated. the song is just classic, nothing more to say, it's just so damn classic, 10/10.
Back in the Village: took a few listenings to get into it, but now i recognise it as one Adrian's best guitar performances and compositions.
Powerslave: 2nd best on the album. Bruce Dickinson's 2nd best song (2nd only to Revelations). it is very well researched, with stand out performances by everyone.
Rime of the Ancient Mariner: the best song on te album, the longest maiden song. one of the best. written to the theme of the poem of the same name by Samuel Taylor Colleridge. it is truly inspiring. over 13 minutes of goodness. if any song is a rep of Steve Harris' compositional skills, this is it.
Overall: BUY IT!
---
The artwork is incredible and the music too. Some of the best material they have done here like Aces High, 2 minutes to midnight . Powerslave (maybe the best song for me) and the epic Rime of the ancient mariner. The Duellists and Flash of the blade are not as good as the other tracks though.
---
Part of the progressive improvements of the previous two albums, powerslave is magnificent. The only problem is the sound is mixed in such a way where it sounds more distant than in your face metal (like somewhere in time). I dont even have to say anything about the World Slavery tour except you better own Live after Death. Highlights on this album are Aces High, 2 mn to midnght, flash of the blade, powerslave and ROTAM. Although Back in the village and the Duellist are good compositions, they dont compare. Be sure to catch 2mn to midnight and powerslave live. the best live versions of aces high are from the '99 reunion tour when bruces voice is more mature. kickass albumn though.
---
The heviest maiden album. And the best instrumentally. No other album has these powerfull riffs and melodies of Dave and Adrian´s guitars, or the incredible way of playing the drums by Nicko and the owesome speed of Steve playing his bass almost as good as Geddy Lee. If you want to listen to pure Maiden, this is the album to choose. The most elaborated songs are found in this record. A classic album of all times, and the best sleeve too. Bruce´s voice is pure anger. No words are possible to describe powerslave!
---
As with Piece of Mind, all tunes on this album are great and energetic. What makes this album a unique part of the entire rock universe, apart from its extremely interesting take on an already cool and metallish topic - namely, ancient Egypt - is the use of twin guitars. We already saw a lot of that on Number of the Beast and Piece of Mind, but on this album, it really sets a new standard for the use of twin guitars. All songs are great, but I specifically recommend the more obsure 'Flash of the Blade' and 'The Duelist', because they are in many ways the essence of metal of that period.