Rock in Rio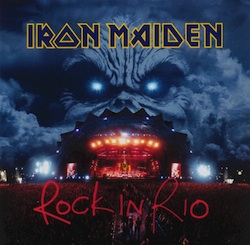 Fan Rating:
Unavailable /10
(from 0 votes)
Tracklist
Disc 1
Intro (1:55)
The Wicker Man (4:42)
Ghost of the Navigator (6:49)
Brave New World (6:06)
Wrathchild (3:06)
2 Minutes to Midnight (6:27)
Blood Brothers (7:15)
Sign of the Cross (10:50)
The Mercenary (4:42)
The Trooper (4:34)
Disc 2
Dream of Mirrors (9:28)
The Clansman (9:19)
The Evil that Men Do (4:41)
Fear of the Dark (7:40)
Iron Maiden (5:52)
The Number of the Beast (5:01)
Hallowed be thy Name (7:24)
Sanctuary (5:17)
Run to the Hills (4:52)
We said …
Rock in Rio is the long-awaited live album that caused some controversy among the fans. This is the first massive live recording of Iron Maiden since the somptuous Live After Death and the excellent Live At Donington. But many of the older fans would have preferred to hear more of the "old stuff" from the Golden Age of Maiden, whereas newer fans are delighted by the first official live recording of the most recent songs of the Brave New World album. This is Maiden's fifth official live release (if you consider A Real Live One and A Real Dead One to be one single live album), and most of the songs of their repertoire have now been officially covered live, highlighting their energy on stage and the fact that Maiden is essentially a concert band that mainly releases studio albums to whet the fans' appetite before each tour.
Iron Maiden embarked on the Brave New World Tour and showed the fans that, although they have reached their mid-forties, they haven't lost an ounce of the energy that has characterised the band along its 25-year career. They decided to record their very last concert of the tour, played in Rio de Janeiro on 19th January 2001 in front of some 150,000 frenzied fans, during the prestigious Rock In Rio festival — the maximum capacity of the venue was in fact 250,000, but the organisers decided to limit the number of people in the audience for "safety reasons". This album is mainly intended for the most die-hard fans of Maiden, as well as for the newest fans who discovered the band with the Brave New World album. It has the advantage of containing not only the most recent material, but also of having disregarded jewels of the Blaze Bayley era sung by Dickinson. Many will say that the so-called "Blaze mistake" — which, in my opinion, was no mistake at all — has finally been fixed, with 'The Clansman' and 'Sign Of The Cross' having finally had Bruce's vocal range applied to them. This is in fact pretty untrue. Blaze's voice was more suited to these dark songs and Bruce's does not add any new, least of all better, dimension to these tracks. The vocals are just different on those songs and many will agree in saying that their respective studio versions are actually more suited to their brooding mood.
4 Reviews
---
I dont know where to begin describing this masterpiece, Maiden are the true gods of metal, hell music in general. 3 of the greatest guitarists to date: Dave, Adrian and Jannick(yes including Jannick) will you people please stop dissing Gers?! Nicko pounds the drums away like lightning, while Steve Harris delivers his intense bass playing, and Bruce rocks on vocals like never before. This is his best live performance with maiden.



They play some great songs off of here, including 6 of them from Brave New World. The intro is very cool, along with the Wickerman, Ghost of the Navigator, Brave New world, Blood Brothers, The Mercenary, and dream of mirrors. They are all played with greatness, for those of you who caught the BVN tour, you cant miss this.

It is so awesome to here all of them play together like on Wrathchild and 2 minutes 2 midnight, all three of them play a solo, and it is so cool how they arranged it that way. Bruce sings the clansman and Sign of the Cross with pure greatness.(So cool when Jannick pulls out the acoustic guitar with the electric on the clansman and dream of mirrors) Bruce's vocals on Fear of the Dark are just phenomenal, he has never sung that song with as much passion and fire as he does on this album.



This is much better then Live After Death really, the band plays as great if not better, and bruce's vocals are about 50 times better then they were in live after death. Even though they play alot of the same songs live, it still is worth hearing the difference with 3 guitars. I was hoping for a few more songs from more of their albums to be in here, but they had a great selection of them already to enjoy. Jannick only plays one solo that was originally smith's on his own, which was Hallowed be thy name, but hey as fast and as energetic as they were playing the song, Gers fit the cue for it, and did a great job at that. As a musician myself I know that Gers is also an extraordinary guitarist, even if he is wild on stage, and the 3 guitars are what make maiden 10 times stronger, more powerful, and even better then they ever were.



If anyone and I mean anyone dislikes this album then you need to open your eyes and realize that Maiden will always be the metal gods no matter what, that is a fact. If you disagree, then try to play their songs, with the same style they have, and you will see what I mean. Best live album yet, get it now. If you love metal then you must not be without this album or just this band period. It is dynamite. UP THE IRONS!!!


---
The live album Rock in Rio is possibly their best live album. The two cd set includes their greatest classics and has some of the best sound quality i have ever heard on a live album ever. Definitely worth purchasing. If your a hardcore Maiden fan this should most def. be in your archive.
---
I love this album is the album live of Maiden !!!!!

MAIDEN !!!!!!!!!!
---
THIS IS BEST ALBIM OF THE WORLD !!!!