The Number of the Beast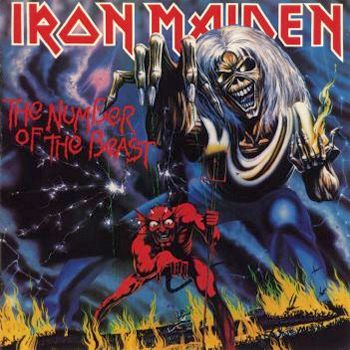 Fan Rating:
Unavailable /10
(from 0 votes)
Tracklist
Invaders (3:23)
Children of the Damned (4:34)
The Prisoner (6:02)
22 Acacia Avenue (6:36)
The Number of the Beast (4:50)
Run to the Hills (3:53)
Gangland (3:48)
Hallowed Be Thy Name (7:11)
We said…
With Bruce Dickinson replacing Paul Di'Anno as vocalist, The Number Of The Beast was a huge step upward for Iron Maiden, launching the band into fame and controversy. It began the second phase of Maiden, what could be called the "golden years", spanning five studio albums through the rest of the 1980s. Dark, introspective, and violent themes dominate the album, which incited controversy and unfounded charges of devil worship. There were rumours of strange occurrences during the recording of the album, such as lights turning on and off by themselves, strange noises, and such.
Charted at number 1.
20 Reviews
---
Deemed by many as maidens best abum, and there are not many arguments against this. I believe that this album is inferior musically to other maiden albums, and the opening song Invaders, is probably one of the worst opening songs ever by maiden, it doesnt quite reach its potential and the chorus is little short of shoddy. Yet after this albums release 3 songs are allmost mandatory at every maiden concert "Run to the hills" "number of the beast" "hallowed be thy name". As an album it has stood the test of time betterthan any other album, and carries my personal favourite song "the prisoner".
---
Ahh...every non-diehard's favorite album. It spawned such internationally acclaimed tracks as Number Of The Beast and Run To The Hills. It sent televangelists everywhere into a storm before they even listened to the damn thing! Truth is, this unnecessarily controversial album is a true Maiden masterpiece. Invaders, the first of quite a few Bruce-led war tunes, headbangs with the best of them. Children Of The Damned is a softer song, reminiscient of a few Paul tunes. The Prisoner borrows a well-placed line from a movie and carries out its duty, keeping you listening to the end. 22 Acacia Avenue, ah, the pinnacle of civilization depicted in song form. Charlotte's renegades are definitely a must in this 6 minute riff-fest. The title track is, and sorry if I'm being shallow, the best song on the album. It has survived 22 years and hasn't ever been dropped from a setlist. Run To The Hills is a bit overrated, with simple music and confusing lyrics depicting the Europeans as the bad guys when Maiden are Brits themselves. Gangland is probably the song most likely labeled to be a filler, but Clive works hard in his final hours of Maiden life. Total Eclipse is a decent tune, but can be considered a filler by the uneducated as well. And last, but most certainly not least, Hallowed Be Thy Name. A song, like the title track, forever emblazoned on evey Maiden setlist. If only the harsh critics gave Maiden a chance. Cover art isn't everything! Though in this case, the cover art is pretty awesome.
---
One of my top five albums of all time, and the first of three Maiden albums to reach #1 in England (the others being Seventh son and Fear of the dark), which can be considered quite heroic at the time. This album has everything. It has the songs, the ambience, the speed, the guitars, the works. Ok, so not all songs are "divine", but those (four) who are more than enough make up for the rest (Hallowed be thy name is just about the greatest song ever made) - and they're all great! And lets not forget the best drumming on any Maiden album, the always hyperactive Steve Harris and...Bruce Dickinson. I would like to clarify that I don't think Di'Anno is a bad vocalist at all - on the contrary, he's one of my favourites. If I had been around at the time, I would also consider his departure a great loss. However, the first two Maiden albums are more punk-rockish and suits his voice perfect, but from this album and onward, the music becomes more grandiose, hence suiting Bruce better. The "big" choruses Maiden later have been famous for, among numerous other things, was not a part of their style until this album and onwards. I have a hard time imaginating Paul sing on this or later albums, just as I have Bruce doing the old stuff (he did record two songs from the debut on the The evil that men do-single, but those were made like Maiden 1988 and not Maiden 1980, therefore quite different in ALL aspects). I can say all this knowing the story some 20 years later, but I think most of you would agree (except you chronic Di'Anno-haters, I know you're out there). So about the songs...what can you say? Everything from vicious Invaders through exquisite Children of the damned, hell-hammering The prisoner, groovemonster 22 Acacia Avenue, superhuman title track and divine, wonderful, heavenly, ingenious Hallowed be thy name - is a feast for all senses. Hallowed be thy name combines and solidifies all elements that made Iron Maiden so great. A product of the world's greatest songwriting, lyrics, riffs, guitars, Steve, Clive, Bruce, the band, and with an outcome that is nothing short of the stuff dreams are made of. Other than that, there's not a remotely weak track here, and that includes everybody's poke-in-the-eye Gangland. I must however also mention that I think Run to the hills is perhaps Maiden's most overrated song. I like it - a lot! - but I like four or five songs here even more, and out of Maiden's entire catalogue, I could easily pick 30 songs that click better with me. The bonus track is also very good (recognize the intro? It's shamelessly STOLEN from Black Sabbath's Snowblind - and it was probably meant to be obvious). It's included on the remastered album since it's a Maiden original, unlike most of their other B-sides. This album also marks what I call the ultimate Iron Maiden setting, with Clive Burr (whom I think is better than Nicko McBrain) on drums, too bad is wasn't to last. Oh, and the album cover is my all-time favourite (on vinyl, god damn it!). I summon this album up with three capital letters and an exclamation mark: OWN!



Best songs: Hallowed be thy name; Children of the damned; The number of the beast




---
Number of the Beast is a great album. The first album with Bruce which made a big difference. Bruce and Paul Dianno have totally different singing styles. I like Dianno's but Bruce is really a great singer. Its starts off with invaders. A good song in my opinion but not everyone else thinks so. Not a great but good. After that is what I think is one of the most unsung iron maiden songs after still life and flash of the blade,Children of the damned. a really awsome song. It has cool lyrics and a heavy chorus. My favorite part of the song is the solo though which i think is one of their coolest ever. After that is The Prisinor. A song that I always just skiped until recently when i just decided to listen to it because I read a review and the guy said the prisinor was his favorite song and I realized that it actually is a pretty cool song. Then comes 22 acacia avenue. I don't really like it to much but its alright I guess. If there werent so many great songs on the album to listen to I might listen to it more. Its the sequal tocharrolet the harlot on their first cd which is cool but even Charrolet the Harlot is probably one of my least favorite on that cd. Following that is without a doubt one of not just the greatest Iron Miaden songs ever but one of the greatest songs ever of all time. Yep Number of the Beast. What makes it so great would have to be.....everything. Starting with the scripture from revelations 13 is a great way to start of the song. If they did'nt have Bruce then the song would'nt be nearly as good. The style of the song is made just for Bruces voice with one of my favorite screams ever. another cool part is the solo. I think all of the solos on the album are their best on any album. After munber of the beast is Run to the Hills. Another great Iron Maiden song. Just after Number of the beast on my favorites list. And once agian a great solo. Then after to of the greatest songs ever comes Gangland. My least favorite song on the album but still not that bad. I don't listen to it a lot but I still think its pretty good. It just dosent meet the standards for the album. Total eclipse comes next a pretty cool song that I don't listen to a lot. Then is Hallowed be thy name. A really cool song about a guy getting the death penalty. one of my favorites ever. I would get this album just after Powerslave. Its GREAT. GET IT.
---
A great album itself starting of with a far underrated song i think, Invaders, quick riff and catchy verse but a poor chorus. Children of the Damned one of my absolute favourite, really great lyrics and powerfull chorus, one of the best solos ever made. The prisoner must have one of metal-history best chorus a real masterpiece. Follow up to Charlot the Harlot, 22 Accacia Avenue got it all, 6 minuetes of smooth riffs and fast lyrics. So, The number of the Beast, one song wich i never will accept, the verse and intro is allright but the chorus is just redicilous, I mean "666 The number of the beast" it's what you hear if your6 year old brother listening to maiden. Run to hills deals with the same problem far to overrated, really strange lyrics and a mediocer chorus. Gangland always been labeled as the filler, but, i think this is a very potential song, this one has a fast chorus with a bit of drag. Hallowed be thy Name... absolutely the best riff i have ever heard, lyrics makes you faint... Bruce's singing makes your brain spin 100 times/sec, probably the best song i've ever ever heard!!
---
INVADERS: Good opener and excellent guitar solo and good lyrics as well.

CHILDREN OF THE DAMNED: One of the best on the album, excellent lyrics based on the movie. One of my fav's.

THE PRISONER: Sweet intro from the film. Pretty good song.

22 ACACIA AVENUE: Worst song on the album i think. The riff ain't that good.

THE NUMBER OF THE BEAST: Well Unbelievable!!!

RUN TO THE HILLS: Best song on the album, Cracking solo and super lyrics.

GANGLAND: Brilliant drums, pretty good song.

TOTAL ECLIPSE: One of Iron Maiden's most underrated songs. Killer solo and killer chorus.

HALLOWED BE THY NAME: Brilliant, amazing, super, great. Best lyrics ever.

CONCLUSION:
Pretty strong album.
---
An all time classic obviously. If you like Maiden at all, get this album. Hallowed be Thy Name is my second favorite Maiden song of all time, listen to it and you'll know why. Number of the Beast, Run to the Hills, The Prisoner, and Children of the Damned are all amazing tracks. Total Eclipse is definitely underrated, amazing solos and a great mid-song breakdown where Bruce's vocals are just great. 22 Acacia Avenue is made great by the heavy riffs, the ultra melodic solo courtesy of Mr. Murray, and superb lyrics. Invaders is kind of lame but still listen-able, Gangland is better, but still does not compare to the others on the album. To sum up, get this album!
---
Invaders: if you play bass, you will love this song. lyrically, substansial.
Children of the Damned: excellent! great solo, great vocal performance by Bruce, nice solo by Adrian. interesting lyrics.
The Prisoner: molto bene. everything is just....mmm.
22 Acacia Avenue: what a sequel! #3 on the album. i can't explain, just listen to it.
The Number of the Beast: i like the name, i like the theme, i like IT!
Run to the Hills: the weakest song on the album and one of my least fav Maiden songs ever. lyrics are okay, but i just don't like the music.
Gangland: 2nd least fav, not really worth a mention.
Total Eclipse: 2nd best song. wonderful lyrics, wonderful music, i can't explain, you must listen to it.
Hallowed Be Thy Name: the best Iron Maiden song EVER! words cannot describe the excellence of this song. 15/10, yes, that's right, 15/10.
---
kjempebra...! absolutt et av de beste albummene til iron maiden. blir så glad av å høre sangene;) up the irons!
---
INVADERS:The lyrics are not much, but the music is really great!A really fast,good opener!
CHILDREN OF THE DAMNED: Nice mellow intro, good lyrics, and a really good guitar solo!!!
THE PRISONER: I don't really like that song so much, but I do like the guitar solos!!
22 ACACIA AVENUE: Second part about Charlotte the Harlot, (that is my favourite song! ) and it's song that kicks ass!!! A really good guitar intro, nice lyrics about Charlotte, just a really amazing song!!It's one of the best songs on the album, I think!!
TNOTB: It's a nice song, and it was based a bit on a dream that 'Arry had. I like the album and the single artwork, it's really cool with Eddie and the Devil!!
RUN TO THE HILLS: I have noticed that it's very easy to fall for this song. I think it's because of the beat and the easy lyrics, that makes you fall for it!! It's a great song, also one of the best songs one the album!!
GANGLAND: One of the only songs that Clive Burr wrote in Maiden. It's got fast drums and music, the lyrics feels like a fill in song, but in music it's great!
TOTAL ECLIPSE: It was on the Run To The Hills single, but on the remastred verison they stuffed it in.
It's a good song, can't complain.
HALLOWED BE THY NAME: The greatest song in the universe, and on the album!! It's a song that really takes you, everything about it is so fucking great!! Maiden has played this song on every tour yet, and I haven't got tired of it!!!
NOB is a great album, and I will never get tired of it!!! Up The Irons!
---
Classic !! Very good songs. A trademark and prototype for the future.
---
Best Maiden album ever. Heavy, Powerful, great compositions..just great!
---
Groundbreaking album showing off Bruce's goods. amazing tracks like the prisoner, the number of the beast and hallowed be thy name. 22 Acacia Ave, Children of the damned, and the numbe of the beast are brilliant live songs. Greatly recommend Beast Over Hammersmith versions of these tracks.run to the hills is wayy overrated, but this album is more a milestone than a best album. Gangland and Invaders are pretty catchy tunes, but Total Eclipse is poor and its good they left it off the album
---
The best one. Really the best Maiden´s work ever. All the songs have an amazing power, incredible melodies and, of course, the best Maiden singer ever. I would have liked to live when the number of the beast was released, I think it was such a succes and something really different in those times. One of the best albums of history, too...simply outstanding.
---
" My favorite and my first album of maiden, I THink this album is the best of 80s metal and the second best in metal, definetley a 10 !!"
---
A fucking classic!! The best of 'em all!!
---
Now, this album is one of the best rock/metal albums ever. Every signle song on it, perhaps with the exception of 'Gangland', whoch is nonetheless a good rocker, is a classic in its own right. This album also introduces the now legendary vocalist, Bruce Dickinson. There isn't much to say about this album other than, to qoute another review on this site "its a fucking classic". Buy it or die!
---
This is no doubt Iron Maidens best album and also the best album ever made by anyone in my opinion.The songs are all awesome without any flaws or anything.And the energy Bruce brings singing this album is just the best.I would just die if I ever saw Maiden perform this album again live.This album is just the best!!!!!!!!!!!!!!


Invaders 10/10
Children of the Damned 10/10
The Prisoner 7/10 (Probably my least favorite song on the album)
22 Acacia Avenue 10/10
Number of the Beast 10/10 (THE BEST FREAKIN SONG EVER)
Run to the Hills 9/10
Gangland 7/10
Total Eclipse 8/10
Hallowed by Thy Name 10/10

Total=81/90
---
Better than the other 2 albums Bruce Dickinson is the best
---
My second fav album
PIECE OF MIND being my fav
this is a great Heavy Metal album
not as deep or theatrical as Piece of mind or Somewhere in time .still a great album that can be too heavy at times.


Invaders:3:22
minutes of pure adrenaline, a very fast rocker that is NOT!!! a bad song.


children of the damned:An odd 4:33 minute ballad that is one of the weaker tracks
on the album.


The Prisoner:a 6 minute epic and metal anthem, one of the best on the album!


22 Acadia
Ave:Not as good as the prisoner but prettey rock'n
another heavy song,4:49.


The # of the beast: every ones fav song but personally it's a bit too overplayed and is overall not that great, sorry.


Run To the hills: Talking about over played
i'm sure if your on this site you know this song.


Gangland: an amazing, fast and underated song (like invaders)


Total Eclipse: A bonus track, this song is a bit unbalanced(you'll know what i mean) .


Hallowed Be Thy Name: a quiticential fan fav and my fav song ever!!