Raising Hell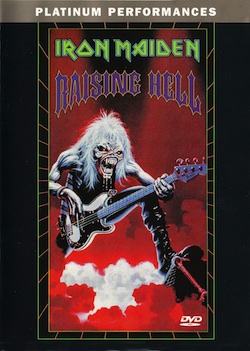 Fan Rating:
8 /10
(from 3 votes)
Tracklist
You can help us out by writing the text for this section and e-mailing it to admin@maidenfans.com.
We said …
On August 28, 1993, metal superstars Iron Maiden and horror illusionist Simon Drake combined to create the most macabre event of all time: Raising Hell. In this first and only live rock concert with a horror movie setting, Raising Hell celebrates lead singer Bruce Dickinson's final performance with Iron Maiden. The band's electrifying concert performance, taped live at Pinewood Studios, London, incorporates blood curdling illusions and seventeen classic Iron Maiden songs, four not seen on the original pay-per-view broadcast. Over 100+ minutes, Iron Maiden "raise hell" in a performance that will live on forever.
---
You said …
Pretty darn good!! BE QUICK OR BE DEAD is the best performed!!
Posted by IronMaiden133 on 8 June 2006. Album rating: 10
---
the ultramelodicenticitiey and ultra violentessity makes this a spellbounding video
Posted by bye bye bruce on 20 February 2007. Album rating: 10
---