Visions of the Beast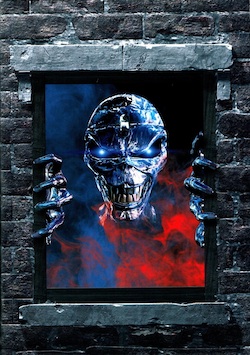 Fan Rating:
7.7 /10
(from 3 votes)
We said …
This double-DVD set represents the ultimate collection of all Iron Maiden video clips from 1980 to 2001. All the videos that were released little by little over the years are gathered in these DVDs and any Maiden fan definitely needs them.
As it is usually the case, some hidden features can be found on the discs. The way to discover them is actually pretty simple.
On the first disc, playing 3 times the sixth track ('The Trooper') — 666 — will lead you to an unreleased video of 'Man On The Edge'.
On the second disc, playing twice the sixth track ('Hallowed Be Thy Name'), then once the fourth track ('Wasting Love') — 664 — will unveil an interesting Camp Chaos version of 'The Trooper'.
You don't even have to watch the videos entirely, but simply press "next" to eventually go to the hidden bonus tracks. Likewise, playing 3 times 'Hallowed Be Thy Name' on the second disc will lead you to the 666 door and you will hear Nicko saying "No! 664! The bloke next door!" before being taken to the right place.
---
You said …
Very very very very good DVD collection. It even includes WOMEN IN UNIFORM!! It's actually pretty good. It includes lots of live coverage like ROCK IN RIO (their best live concert.) It has an incredible amount of extras like CAMP CHAOS (cartoon versions) of ACES HIGH, NUMBER OF THE BEAST, FLIGHT OF ICARUS and RUN TO THE HILLS. You even get to see Maiden playing footy to the music of FUTUREAL!! Steve kicks ass!! UP THE IRONS!!
Posted by IronMaiden133 on 7 June 2006. Album rating: 10
---