Best of the Beast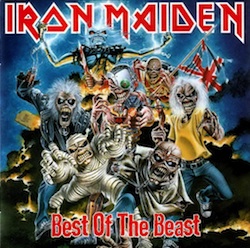 Fan Rating:
Unavailable /10
(from 0 votes)
Tracklist
You can help us out by writing the text for this section and e-mailing it to admin@maidenfans.com!
We said …
Best Of The Beast is the first major Iron Maiden compilation. It contains a sampling of songs from Maiden's entire career, from the earliest Soundhouse recordings up through The X Factor. Also included is a fairly long booklet containing album and single cover pictures, diary entries, song lyrics, discography, and tour information. In fact, the booklet for the vinyl version contains a listing of the place and date of every concert on every major tour that Maiden has ever done.
There are two major highlights of Best Of The Beast, the new single Virus and two songs from the original Soundhouse Tapes, 'Strange World' and 'Iron Maiden', which were previously unavailable on CD. (The LP version contains the other Soundhouse tracks 'Prowler' and 'Invasion'.) These tracks make Best Of The Beast well worth purchasing.
1 Review
---
You know that considering that writing reviews is entirely voluntary, you'd wondor why I'm bothering to review this one because as as far as compilations go, it's a real source of stress, headaches and nausea. Why? Because I find it very hard to decide weather to give this a 4 or merely a 3. Well, I could give 4 because its full of great music by one of the most incredible bands ever to plug in an amp, turn it up to 10 and let rip. If you own one or none of Maiden's albums, it is well worth buying this for the simple reason that it gives you a nice little taster of what awaits you ahead. The majority of these songs definately deserve to be here, and if you haven't got anything else by Iron Maiden then this will inspire you to buy more. This was the first metal album I ever bought and Iron Maiden remain to this day to be one of my (if not my absolute) favourite bands. It is hard-hitting and will convert you to Iron Maiden and you will truly appreciate them as very talented musicians who will always give it their all and nothing less. On the other hand, now that I am a big fan, not just of Iron Maiden, but of metal generally, I notice the ommisions. This has been highlighted by other reviews as well. Only one song off both Somewhere In Time and Piece Of Mind. No songs from the Paul DiAnno era except Runing Free and even then its a live version with Bruce Dickinson. Not that that's bad as Bruce is far superior to Paul (and most other vocalists), but Paul was there at the beginning and should deserve some recognition as the original singer for Iron Maiden. Bruce joined when they had already established themselves whereas Paul went through the usual ... of signing up on the dole and touring hard (like the rest of the band line-up at the time obviously) in order to make a name for the band. It features pictures of him but no music. What really rubs the salt in the wound is that Blaze Bayley has 2 songs on here. I mean he's not as bad as people say but if he is on here why shouldn't Paul be? I'd rather have Phantom Of The Opera than Virus any day. There's also the usual moan about golden era songs that have been left out like Revaltions, Infinite Dreams and Heaven Can Wait. I must say that I've never been too impressed with Can I Play With Madness. Obviously Bring Your Daughter has to be there coz its their no. 1, but ironically its one of my least favourite songs on the album (compared to Aces High - one of the best songs ever written - which only just made it into the top 40). All in all though, I have given this 4 marks because the point of a compilation is for new-comers. If you hear this and you are a new-comer to the band it will blow you away and therefore it will have served its purpose as a selection of great songs that introduces you to the band. Start with this, but don't stop here.