Virtual XI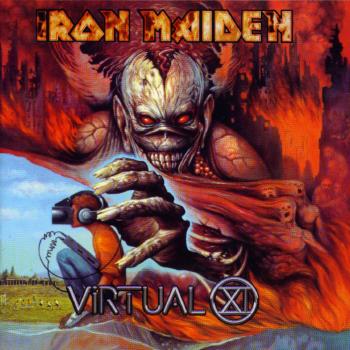 Fan Rating:
Unavailable /10
(from 0 votes)
Tracklist
Futureal
Harris, Bayley
The Angel & The Gambler
Harris
Lightning Strikes Twice
Harris, Murray
The Clansman
Harris
When Two Worlds Collide
Harris, Murray, Bayley
The Educated Fool
Harris
Don't Look To The Eyes Of A Stranger
Harris
Como Estais Amigos
Harris, Bayley
We said …
Virtual XI is Iron Maiden's second studio album with Blaze Bayley as vocalist. It retains the Maiden feel while at the same time continuing their musical evolution and maturation. Although there will always be people who are unable to accept this evolution, Virtual XI demonstrates that the band has indeed overcome their painful transitional period and are now continuing to do what they do best — making great music.
The album cover is once again by Melvyn Grant, and returns to the familiar comic-book style. It is perhaps the most complex album cover since Somewhere In Time, depicting a boy who is immersed in a virtual reality of flaming holocaust where the line between virtual and reality is beginning to blur.
Musically, Virtual XI is not as dark and brooding as its predecessor The X Factor, and perhaps has more in common with Somewhere In Time both in its futuristic mood and musical style. Like all of the Maiden albums since Somewhere In Time, Virtual XI has a touch of light synth in the background of some songs. Also, there is a bit more vocal harmonies than we've seen before, on songs such as 'The Clansman' and 'The Educated Fool'.
21 Reviews
---
Iron Maiden has done a dynamite job with this album, Blaze and Jannick haters beware!!!. Blaze is not as good as Bruce at least not with maiden, but he does superior with his deep vocal range. it still does have evrything maiden should have though. Steve Harris still has the awesome clean sounding lightning speed bass with his dynamic songwriting. dave and Jannick sore great together, with excellence, and Nicko Mcbrain being very solid, maybe not his best drumwork on some of the songs but still excellent all the same.



Futureal-Opens fast, with a great raw repeative solo, nailed with excellent bass, and the its a very cool sci-fi type of song, Dave tears the lightning solo up.



Angel & the Gambler-ok maybe if u hear it the first time, you might not like it, but try to listen to it some, and youll be surprised how awesome it really is, the keyboards are very cool, and a different type of keyboard maiden sound. As always cool lyrics, you even start to enjoy the repeative chorus over and over again, also the solos are sweet kind of get a classic rock type of feel to them.



Lightning Strikes twice-powerhouse achievment,awesome melody, once again the solos are sweet and how they jam is awesome especially towards the end.The



Clansman-Based on the film Braveheart, this song is incredible and a major metal classic. You get a major british metalfeelfrom it, the opening raw bass sound is incredible, Blaze sings his heart out and Nicko does absolutely spectacular on the drumming.



When two worlds collide-interesting lyrics,cool song, chorus rocks, and the opening of the song u get a major pink floyd feel to it,and the repeative solos are cool too.



The Educated Fool-Great melody, oh come on and ur going to tell me these lyrics arent very good? The song is dynamic though the chorus is overly repeative i suppose, but is still cool all the same, great tune.



Dont look to the Eyes of a stranger(continuing saga to Killers)-Awesome tune, i luv how the keyboards sound, creepy, kind of odd sound at first but you get into it fast. Also the mid melody with the bass is awesome, youll know what i mean when you hear it.



Como Estas Amigos-This is a beautiful song, Janick's solo is perfecto on here, so beautiful a very sad deep, deep song. Its truly incredible and blaze sings his heart out.



The only thing i see different with x factor and XI is alot more melody, but melody is awesome and is very complicated to create, the repeative lead here is quite awesome because it builds up when they drive and nail the solos a whole lot longer. Blaze did awesome with maiden while he was with them, and this is indeed a true metal classic. Everyone listen to the album for a bit and it will grow on everyone fast who luvs true metal. UP THE IRONS!!!






---
Another rather unpopular album, but next to The X factor, I think it owns up very well. Of course, it's nowhere near past glory, but not at all as awful as people make out. I think all songs here are at least average, and especially Futureal and a few others well above. Soundwise, this is lighter and not as misanthropic and melancholically thick as The X factor (it wants to be, but seing as the torture art has been replaced with the band proactively smiling and posing in various soccer teams...), which is all for the better. Blaze tries to look really mean (my guess is he's a total softie) on the back cover, but that's it. I also think songs here have a lot more flow, and there aren't really any fillers (save for the lame closer). Like I said, Futureal is kickass, plain and simple - by a landslide the best song of the Blaze-era, and I really hope they'll re-record it with the Bruce. The rest of the album doesn't quite measure up, but you shouldn't turn off just yet. First you must be tormented by The angel and the gambler, a song I LOVED the first time I heard it but had grown absolutely sick of it before it ended. Hell, I've even counted the times the "Don't you think" line was repeated - SIXTYSIX times! There's also a "radio" or "edited" (in either case interchangeable with sellout :) ) version floating around somewhere, about 4 minutes shorter, and approximately 38% more tolerable. Other than that, the best songs are Lightning strikes twice, When two worlds collide and The educated fool. But Infinite dre...err, I mean The clansman and Eyes of a stranger are also decent, and I really think this album has solid numbers throughout (despite being shameless remakes). Musically, Maiden has stagnated a long time ago, and this could be considered the last spasmic squeeze-out of all trademarks. It took me a while to appreciate it, but it happened - although I doubt it will happen again. Hard to say if I should recommend this album, as so many people hate where Maiden has gone with range-less Blaze in front. My advice is: Listen before you buy.



Best songs: Futureal; Lightning strikes twice; When two world collide




---
One of my fave albums.

Futureal:One of Maiden's best songs undoubetly. Sweet Solo

TAATG: This song would have been a masterpiece except it is very very repetitive in the lyrics.

Lightning Strikes Twice: Great Song. Really good chorus.

The Clansman: SWEET!!! Amazing song i love it. 8 mins 58 secs long and not one boring bit. Brilliant Lyrics.

When Two Worlds Collide: The worst song on the album.

The Educated Fool: UNBELIEVABLE!! Probobly my fave Iron Maiden song in the BLAZE years. Remarkable Solo

Don't Look To The Eyes Of A Stranger: Super song. Bit repetitive though to be honest.

Como Estais Amigos: Great Song. It should have been a bit sadder because it was Blaze Bayley's last song with Maiden.
---
A little better, still not as good. Futureal is brill!
---
Definetely the worst Iron Maiden album there is. It has it's brief moments of brilliancy such as the Clansman minus the sing along intermision part and the climatic breakdown in Lightning Strikes Twice, but for the most part this album is too short, poorly recorded, and lacks depth. Some parts of it are just plain cheesy such as Two Worlds Collide and Don't Look to the Eyes of a Stranger. I have an MTV broadcast of this tour in South America and it's just painful to watch Blaze struggle singing damn near all the Bruce songs. I love Blaze. I thought what he did on The X Factor was great, but even Bruce can struggle to keep up with some of the singing at times 'cause it's that hard to do. There's a reason Blaze never sang Run to the Hills live. I did see maiden 2 times on the X-Factour and Blaze was really good, but it's hard to keep up that pace night after night when your singing things that are a little out of your comfort zone. Back to the album though, some will disagree, but I just think it's very weak although like all maiden albums it has it's good moments.
---
I think this is better than the X-factor, but only because the songs sound more varied. The only thing i wish to highlight is the song Don't look to the eyes of a stranger. This song has such a great mood to it, so dark and mysterious, the quiet middle part where it gradually fades up is awesome. The songs on this album have some cool solos, but I find that Jannick and Davey played somewhat similar on some of the songs, but hey its still good stuff. Once again, not classic Maiden by any means, but worth listening to for sure.
---
The Worst album Maiden have ever done and the blame ain't only Blaze, ok he is not Bruce, and I doesn't have his vocal extension, but also the song-writing is lacking, all the members of the band were not inspired and the song were and are too long and repetitive...I think if there was Bruce some song would not have been written because he'd have make head!!
There are two and not more good songs The Clansman & Futureal and the math is dispersive...in this work they hear the assence of two good writers.....with the next Brave New World the Heavy Metal has had a new dawn!
---
One of my favourite maiden albums. Great work!
---
Oh dear...... Sounds like a band that ran out of ideas. Futureal is a typical maiden opener (not unlike any other opener) and the clansman is the albums residential attempt at an epic, although no way near as good as Sign Of The Cross, 7th Son, Phantom ETC. Take these two songs out and there is nothing else left..
---
not as bad as the x factor but it still dosent sound like maiden
---
Maiden's only bad album. It is not Blaze fault, the songs are repetitive, long and boring. Guitars are weak and drowned in the mix (sounds like a 70s rock production) Just compare these songs with Aces High, The Number of the Beast, The Trooper, Phantom of the Opera and you will hear how weak they are.
---
Many people give dont appreciate Blaze because he's not Bruce Dickinson. Granted, Dickinson is a much better performer live, Blaze still did a good job filling in and adding a new Dynamic to the band-one unlike Paul and Bruce. The X-Factor is a much stronger album than Virtual, but with songs like The Educated Fool, The Clansman, and Lightning Strikes twice, and the fast paced guitar attack of Futureal,its easier to forgive the repetition and boredom brought on by The Angel and the Gambler and Como estas whatever its called. Anyway, Virtual is the weakest Maiden album ever in my opinion, but i like it nonthe less. up the irons
---
Can I rate this album with a 0/10 note ? This is awful...The only track I like is "The Educated Fool", but the others are bad.
---
Blaze Bayley was pressured for not singing like Bruce and it shows here. On some parts he just sounds strained. Still a good album trying to go back to the Maiden feel after The X Factor (which I LOVED)
---
They say that this album shows maturation and musical development, but that there will always be some who can't accept this development. I guess I belong to the latter group. This album just doesn't appeal to me. I find it very weak musically, and, while not having a problem with Blaze as a vocalist, I think he could have done a lot better on the quiet pieces on this album. The production is even worse than 'The X Factor' and the guitars have the stranges sound ever and are not audible enough. Apart from 'Futureal' and 'The Clansman' plus the choruses of 'Lightning Strikes Twice' and 'The Educated Fool', there's nothing on this album that appeals to me, and there are some outright unfortunate parts like the up-tempo-section of 'Don't Look to the Eyes of a Stranger' which sounds more like polka to me than anything else. I really thought this would be the end of Maiden for me... fortunately it wasn't.
---
I must admit it. This was the first album I couldn't listen to all of the way through. I eventually did, but for me, Iron Maiden albums , even No Prayer, were always listenable and innovative in some small way. I didn't like a single song. Especially not the lauded Clansman in which is just plain too long. With other artists expanding the Metal genre and Bruce Dickenson producing quality metal music in his solo efforts with Adrian, this would become the first Maiden album I would not buy.

Some people claim this is the beginning of the return of Maiden's new sound. I don't think so. This was the slow demise of Iron Maiden, that was luckily averted by Bruce and Adrian kicking Harris back into gear on Brave New World. I do appreciate Maiden's hiatus as it gave me a chance to explore other bands that were handling innovation in the late 90s much better (like COC and In Flames). Up the Irons!
---
THE ALBUM IS OVERALL VERY BAD , EXEPT FOR THE STAND OUT TRACK , THE
BEST IRON MAIDEN SONG EVER
(AND BEST SONG EVER),
THE ANGEL & THE GAMBLER,THE OVERALL MOST AWESOME SONG IN MUSIC HISTORY,OVERALL THE ALBUM SUCKS
BUT TAATG IS SOOOOOOOOOOOOO AWESOME, ANYWAY I LOVE THE ANGEL AND THE GAMBLER!!!!!!!!!!!!!!!!!!!!!!!!!!!!!!!!!!!!!!!!!!!!!!!!!!!!!!!!!!!!!!!!!!!!!!!!!!!!!!!!!!!!!!!!!!!!!!!!!!!!!!!!!!!!!!!!!!!!!1111
---
May be the worst maiden album.
---
Yes, this may be Maiden's worst album ever. I mean, lets see:
1) Futureal: Just another opener, almost the same as any other, though along with The Clansman it is the only standout track.
2) The Angel And The Gambler: GOD this song sucks SOOO fucking much, I think it is the reason why many people heard it before deciding not to buy Virtual XI, and when I say BAD I mean WORSE THAN QUEST FOR FIRE!
3) Lightning Strikes Twice: Its just a filler song, theres nothing special from it.
4) The Clansman: The other standout track, of course, it isnt as good as other tracks as other songs from Maiden's golden era, but those miserable 3 points are thanks to this song.
5) When Two Worlds Collide: It is one of those fucking songs which seem to NEVER end, its just boring...
6) The Educated Fool: What can I say? GIVE ME THOSE 6 MINUTES FROM MY LIFE BACK!
7) Dont Look To The Eyes of A Stranger: I may say this is the longest title of a song Maiden has ever done, and again, one of those songs which seem to never end (Well, its better than The Angel and the Gambler) but it has something missing which just makes it horrible.
8) Como Estais Amigos: Come on...This song blows...why am I even taking time to review it?
---
VIRTUAL 11< QUEST FOR FIRE & BACK IN THE VILLAGE
---
worse than the dance of death and x-factor album cover and all of the fillers on no prayer... ,fear of the dark,the x factor, Iron Maiden and powerslave combiend ... so in other words ...THIS ALBUM IS A BUM