Death on the Road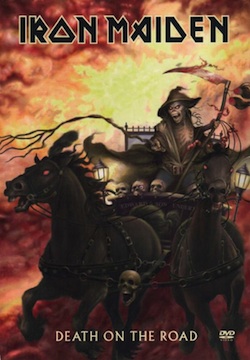 Fan Rating:
4 /10
(from 2 votes)
Tracklist
Wildest Dreams
Wrathchild
Can I Play With Madness
The Trooper
Dance of Death
Rain Maker
Brave New World
Paschendale
Lord of the Flies
No More Lies
Hallowed be thy Name
Fear of the Dark
Iron Maiden
Journeyman
The Number of the Beast
Run to the Hills
We said …
IRON MAIDEN have now confirmed the release date of their much anticipated DVD release DEATH ON THE ROAD for 6th February 2006 through EMI Records. This will initially be available as a limited edition special digipack.
The DVD package contains the full performance of their 'Dance of Death Tour' in December 2003. Filmed at the Westenfalenhalle Arena, Dortmund the show has been personally edited by founder band member Steve Harris, to fully capture the magnificent stage production and to cut right to the heart and the electricity of the band's performance. Over a four month period Steve made thousands of edits, thus ensuring he was personally happy with every single shot included!
Says Steve Harris:
We realise that the fans have been made to wait a little longer than planned for the DVD to come out but as they know - we won't settle for anything but the best and the extra time and effort spent in the final production of this DVD should be apparent. I can safely say that when people see songs like 'Paschendale' and 'Dance Of Death' their jaws will hit the floor as mine did when I saw the final product on my TV at home. With visuals like this and the show played in 5.1 on a decent system it's just like being in the front rows of the show.
To ensure top quality and to avoid any compromise in reproducing the very best possible sound and picture quality, the band have taken the unprecedented step of making the full concert available on two separate discs — one with full traditional stereo soundtrack and the other with specially mixed 5.1 sound by Kevin 'Caveman' Shirley — which along with the special features disc makes three discs in all.
Says Harris:
I felt it important that this was done as we didn't want to be restricted. By having two seperate discs I was happy in knowing that neither picture nor sound quality would be compromised in any way. We are aware that many fans don't yet have access to 5.1 sound and still use stereo but if you put both sound beds on one disc with the concert a fair amount of visual quality can be lost due to the massive amount of information that needs storing. As this was quite a dark and theatrical show we refused to allow this to happen! However, so our fans aren't paying extra for a disc they may never use, we have arranged with EMI that the pricing will be the same as 'Rock in Rio' which was a 2 disc package. This way everyone gets the best possible quality show visually with the sound fully compatible for their system at no extra cost at all.
The special features disc contains an exclusive documentary directed by Matthew Amos who also directed the band's award winning 'Early Days' documentary. It's an insight into the production of the Dance of Death album from its writing and recording through to the detail in what it takes to get a massive show like Maiden on the road.
Says manager Rod Smallwood:
The documentary is something quite special for the fans as it really is a very revealing portrait of how Maiden work together during recording, and it took me weeks to persuade them to let the cameras into the recording studio. Previously they'd never allowed any of this to be filmed but this time we decided to have a camera floating around to try and capture the Maiden recording process. A lot of it was filmed by Kevin Shirley and the band themselves. I think it's a great representation of the talent, effort and humour of a Maiden recording session. The documentary also covers what it takes to set up a major world tour and has various interviews with our Killer Krew and hopefully it will be as insightful and interesting as the well received 'Early Days' documentary footage which Matthew also directed.

As usual we have crammed as much as possible into the DVD with a host of extras including all of the promo videos from the album, background interviews with members of the production crew and fans during the tour, artwork, design sketches and photo galleries. Many hours of Maiden mayhem with a total running time of over three hours — and that's just the special features.
The band are now taking a well deserved break following their hugely successful touring schedule this year, having headlined virtally every major festival in Europe including Reading and Leeds here in the UK, as well as taking the USA by storm on this year's Ozzfest bill. Preparations for the next studio album (their 14th) will begin in February next year with recording commencing in the Spring of 2006.
---
You said …
I think that subtitles are missing... but.. GREAT DVD!!!
Posted by Dectac on 5 September 2006. Album rating: 6
---