Iron Maiden
Part of the series of Iron Maiden Albums.
Preceded by The Soundhouse Tapes (1979) and followed by Killers (1981)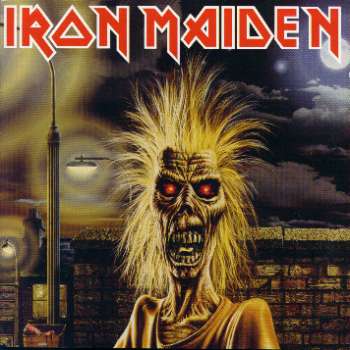 Fan Rating:
Unavailable /10
(from 0 votes)
Tracklist
Prowler
Harris
Sanctuary
Harris, Di'Anno, Murray
Remember Tomorrow
Harris, Di'Anno
Running Free
Harris, Di'Anno
Phantom Of The Opera
Harris
Transylvania
Harris
Strange World
Harris
Charlotte The Harlot
Murray
Iron Maiden
Harris
We said…
This was Iron Maiden's first full-length studio album, although it contains a couple of re-recorded versions of tracks from The Soundhouse Tapes. Most of the songs on this album had been played by the band during the previous several years during their endless series of small gigs at various clubs and pubs around London. For this reason, the album contains a wide range of material that is not really unified into any specific theme or style. The sound is also a bit different from the later albums to which most Maiden fans are accustomed, but after several listens their unique power and depth begin to sink in.
Charted at number 4.
15 Reviews
---
A very, very strong first outing. No question Iron Maiden was influenced by the punk scene, but differing with a twin-guitar heavy rock sound and the remarkable songwriting skills of Steve Harris. The sound quality is a bit on the ho-hum side, but that I can overlook, given the year of release, the recording capital, and the fact that demon producer Martin Birch hadn't joined the team at this point. Opening Prowler is of course as classic as they come, great groove and an awesome instrumental middle-part, when the song speeds up, typical early Maiden tempo-change style. Remember tomorrow is an original and kinda strange song, with excellent drum fills and guitar attacks. Oh, and whatever you do or don't do, check out the Anthrax-cover - it's 4000 times heavier and kicks TOTAL ASS! Running free and Sanctuary are both very famous - concert material to this day - and every bit as mean and ass-kicking. Undisputed highlight is of course the complex masterpiece Phantom of the opera, which Maiden were kind enough to crank live on the reunion tour. Never thought that one would ever hit a 15000 crowd again, but it did, THANK YOU! Instrumental Transylvania (my favourite such by Maiden) and less popular Charlotte the harlot are also excellent. The weaker songs on this album are semi-bore Strange world (mixed feelings 'bout this one, I both love and hate certain parts of it) and the title track, which I find cornier than corn itself. The lyrics are childish and embarrasing, and the intro/main riff downright annoying. What can I say, I dont like it, and I wish they had pick a better song to call "Iron Maiden", which by the way is a medieval torture instrument. At any rate, all other songs are great, so there is no excuse for not owning this hallowed wah-wah-wax!



Best songs: Phantom of the opera; Running free; Prowler




---
Ahhh....This be the cassette i bought after hearing Powerslave (expecting another Bruce Dickinson release) i got this gritty new vocalist of Paul Di'Anno.....now...I actually like his vocals, as well as his solo work he did with Battlezone and yes i only own the "findable" Children of Madness cassette, (which is also good but sings in a different tone)......now BACK to their kick ass S/t Debut....I grew to love this album maybe more then Powerslave just because it was so raw and from hearing the extremely raw guitars in Running Free, I knew that i found a band that I could listen to over and over again. The opening song i heard i fell in love with right away (Prowler) an excellent track and i wish they would play more in the US States and another wish, is they could've added this to this years Somewhere Back in Time Set. this is another Classic that will always be remembered, even if it was released 4-5 different times by Record Labels, another classic in its own right!

UP THE IRONS!!!!
---
Not band for a first album, my favourites are Phantom of the Opera, remember tommorow and Transylvania. Paul Di'Anno is alright right but not as good as Bruce Dickinson.
---
This album is great. The opening track Prowler is one of the best opening tracks for an album ever, that riff is so thrashy and raunchy! All the songs are good. Transylvania is air-guitar heaven, and Strangeworld has some of Dave Muarry's best melodic solo work ever. However this all seems irrelevant, because Phantom of the Opera blows everything out of the water, which is why it is my favorite Maiden song of all time, the riffs are incredible, the vocals are vicious and the mid-song instrumental break with bass and guitar harmonies is the best instrumental break in any song, ever. This album is an all time Maiden classic and any Maiden fan has to own it.
---
the greatest Iron Maiden album ever!
PROWLER: the best opening for a debut album, and one of the best on the album.
REMEMBER TOMORROW: the lighter side of Paul's vocals, and a nice melody of Steve's, well done.
RUNNING FREE: quite anthemic, a good rocker. good song to listen to in your first holden crusing into the McDonalds drive thru.
PHANTOM OF THE OPERA: the best song on the album, and the first epic. one of, if not, Steve Harris' best bass performance to date, Dave and Dennis started the whole harmonising thing HERE!
TRANSYLVANIA: the best maiden instrumental.
STRANGE WORLD: the sequel thing to transylvania, the second best song on the album, 3rd best maiden song ever!
CHARLOTTE THE HARLOT: the only song written soley by Dave Murray, it truly is a masterpiece. well done Dave, Big Tommy P salutes you!
IRON MAIDEN: one of the greatest riffs, one of the greatest songs.
OVERALL: this album has it all, the raw power of the original lineup, the classic rock n' roll style stuff, the dazzling epic, the wonderous instrumental, the slow and lovely song, the song about a prostitute, and one of the best air guitar songs ever. this truly is the best Iron Maiden album ever.
---
it appears as though i forgot Sanctuary. my bad, you see, i have the original casette that my brother gave me, and Sanctuary isn't on there, i have however heard it on Rock in Rio. i think it is my least fav song actually (well that i've heard), i like Run to the Hills just a bit better. i don't know, maybe Bruce can't sing it like Paul, but oh well, with songs like Prowler, Phantom of the Opera and Strange World, who needs Sanctuary?
---
Classic, best compositions, but maybe a bad recording, but who cares??
---
This album wasen't that well mixed, because Maiden ended up mixing the album themselves, but the songs are so great!! There is not a bad song on the album, well I don't like strange world!! But all the other songs are great!!
---
wonderful album, and it's only the first! 9 great songs that every Maiden fan should know, but Phantom Of The Opera is more beautiful!
---
The kickass punk-like metal sound and show are what makes this album memorable. Each song carries its weight and showcases just how awesome iron maiden is even from the begining. every person should own this album. highlights in my opinion are the phantom of the opera, strange world, and especially charlotte the harlot. The earlier BBC recordings of Transylvania and Running Free are superior to those on the actual album. The Reading Festival in 1980 showed what Prowler and Iron Maiden are really supposed to be like. fast and heavy. up the irons
---
Not the best album from Maiden, but full of good tracks. And I love "Remember Tomorrow", "Strange World" and "Phantom Of The Opera". Good stuff, but poor sound.
---
A classic! Not as good as most of Bruce's albums, though
---
This is simply an album that should be a rock classic. It pulsates with rock and roll energy paired with the aggression and rawness of Iron Maiden's style. The album is interesting in that already here Maiden's style, blending progressive elements like time changes with the rawness heavy metal and the catchy guitar and vocal melodies of hard rock. On this album the past (i.e. the influence of the rock of the 70s) meets with the present (i.e. Maiden's own style which would eventually become defining for the metal genre itself). While rough in its production due to an uninterested producer, Iron Maiden's eponymous debut album is overall a positive experience worthy of top marks.

It contains hard hitting rockers such as 'Prowler', 'Charlotte the Harlot', 'Running Free', and, on the digital version, 'Sanctuary', as well as the fascinatingly strange ballads 'Remember Tommorrow' and 'Strange World'. The 7 minute long metal epic 'Phantom of the Opera' is a foreboding things to come from Harris' drawing board later on in the band's career. And of course there's the good old tooth pulling 'Iron Maiden'.
---
the worst album by the band, a true abbominaton!!!!!!!!!!!!!!!!!!!
---
Most tracks on this album are timeless. It has a different feel than the other albums. It has a raw blues metal feel to it and it has some beautiful melodies. I wish they would do more slow songs like this. If you like it fast Phantom of the Opera is one of the best metal songs of all time period! We all love Bruce but Paul Dianno you are also missed. Great performance, great album!