Seventh Son of a Seventh Son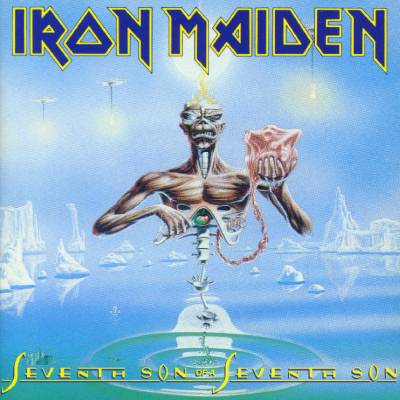 Fan Rating:
Unavailable /10
(from 0 votes)
Tracklist
Moonchild
Smith, Dickinson
Infinite Dreams
Harris
Can I Play With Madness
Smith, Dickinson, Harris
The Evil That Men Do
Smith, Dickinson, Harris
Seventh Son of a Seventh Son
Harris
The Prophecy
Murray, Harris
The Clairvoyant
Harris
Only the Good Die Young
Harris, Dickinson
We said …
Seventh Son Of A Seventh Son is a special album. It is the last of the great classic albums and represents the culmination of the creative evolution that began with Somewhere In Time. It's also Iron Maiden's seventh studio album, which makes a neat tie-in with the album's title and the subject. The guitar and bass synths are still present, but are somewhat less intrusive and seem to complement the music more effectively than before. For Maiden, guitar synth is like a woman's make-up — if you specifically notice it, then there's too much of it. Seventh Son Of A Seventh Son seems to have achieved a good synth balance in most songs.
Other albums have had the feel of concept albums, most notably Killers because of the incredible cohesiveness and similar feel of its songs. However, Seventh Son Of A Seventh Son is the first album with a definite theme and story that carries through the songs. Although all of the songs have mysterious, magical, and occultic themes, the true story is told on the last half of the album, beginning with 'Seventh Son Of A Seventh Son'. It might be possible to tie in the earlier songs, but not without wild speculation.
The story that unfolds along the various songs on this album can possibly be summarised as follows:
Moonchild: The Devil addresses the parents of the Seventh Son of a Seventh Son, mostly the mother, and warns them that "all resistance is futile."
Infinite Dreams: The Seventh Son's father, himself a Seventh Son, has visions he does not understand and that torture him.
Can I Play With Madness: The Seventh Son's father looks for an explanation of his visions and consults a prophet; he doesn't like what he's told.
The Evil that Men Do: the Seventh Son of a Seventh Son is conceived; the father possibly dies.
Seventh Son Of A Seventh Son: Birth of the child with supernatural powers; Good and Evil both try to take him over.
The Prophecy: the young man has harnessed his powers to discover that disaster looms; naturally, no one listens to him and the village is destroyed.
The Clairvoyant: the Seventh Son of a Seventh Son is now a seer who has control of his powers, although they quickly submerge him and are probably the cause of his death.
Only The Good Die Young: bitter reflection on the events; was it all worth it? Back to square one.
Charted at number 1.
13 Reviews
---
There is no words about to describe 7th Son of A 7th Son!So I'm gonna explain in french.Probablement LE meilleur album de Maiden au niveau complexitée musicale.Le thème est bien simple.Le septième fils d'un septième fils a des pouvoirs et 7th Son décris la vie d'un de ceux.Chaque simple a été un succès total.Les meilleures pièces sont;Infinite Dreams,7th son of a 7th son,the clairvoyant et the evil that men do.La seule dommage de 7th son est que l'album d'après(NPFTD)a été un fiasco!!
---
Hell yeah...probably Maiden's most consistent effort, and one of their absolutely best. This is the album that best shows the band's progressive songwriting, which have been integral since the Number of the beast/Piece of mind-era, but hinted and lurking in the shadows from the very beginning. It may just be that Paul Di'Anno's thrashy voice is not what you normally associate with this kind of "intelligent" music, and one theatrical Bruce Dickinson was the spark the band needed to fully develop this style. From being a good '70s-inspired hard band, to a force only the largest arenas could tame, thus making metal no longer disregardable as an entity. The, shall we call it "typical Maiden-sound", is here in its most flagrant, with beautiful harmony lines, tempo-changes, acoustic sections, a slightly etheric mood and lyrics accordingly (here in a "rock-opera" style, but I never really cared about it) in perfect balance. It's also this particular style that the band has "ripped off" and duplicated countless times in the nineties, most notably on the Blaze records. Only, it sounds forced when you do it too many times, without the ability to add something new in the process (new, lousy singer doesn't count). It did for AC/DC, it did for Running Wild, and it did for Maiden. On this album it only sounds natural, and all songs here kick some serious prog ass - not one weak track to break the flowing greatness. Title cut is brilliant, and especially the chorus and last minute of guitar-runs is just mindblowing. Infinite dreams, Can I play with madness, The evil that men do and Only the good die young are also absolute killers, and the others the second best thing. Like I said, there's not a single weak one here. Tied with Piece of mind for my second favourite Maiden album, after The beast (that one is just untouchable, always will be), and a neat way to round off the '80s catalogue.



Best songs: Seventh son of a seventh son; The evil that men do; Infinite dreams


---
In first place, I believe Seventh Son´s unique sound isn´t an evolution, it´s a great experimentation. As a band, they needed to add new textures and emotions to their music and for sure, that was the moment, after the learning from Somewhere in Time synths and great moments.
As a concept, Seventh Son album is diving in those cold seas created by Derek and ocultist texts from great english writers. They made, trough a lot of musical researh, the perfect musical ambient for some strongs questions from the obscure (a theme that Maiden knows how to develop very well). It´s like using a theme like phanton of the opera, rime of the ancient mariner or reveletions, but going much deeper, what is, in my opinion, a very difficul thing to make.
As a reunion of references, it´s Maiden most effective effort. Shakespeare, Orson Scott Card, Aleister Crowley and maybe even William Blake. Those gentlemen know very well how to use obscure themes, wich of course makes everybody curious. Clairvoyance, dreams, life after death, destiny, curses, madness, prophecys, revelations. Those subjects makes everybody listen.
It´s the only album in my mind that makes a circle, for it´s end fits perfectly with it´s begining. No other maiden album made me feel this way. This circle movement makes a union, a unity and maybe perfection (seven means perfection).
And what messages does it pass? I believe it´s a very Skepticism album. It tries to show good things and bad things in a different way, after all, those themes can´t be divided, good and evil are siamese. It shows how power is developed and how you can loose control and after all.
---
Great album; not as good as POWERSLAVE,BRAVE NEW WORLD or DANCE OF DEATH.
Superb experimentation album.

MOONCHILD: Brilliant synth opening. Great lyrics.

INFINITE DREAMS: A great song. Really good live. Excellent solo.

CAN I PLAY WITH MADNESS: One of the best chorus's around. Super solo.

THE EVIL THAT MEN DO: Fairly good song. Great lyrics and solo.

SEVENTH SON OF A SEVENTH SON: Pretty good song with killer solo. The talking bit in the middle is class.

THE PROPHECY: The worst song on the album, but good intro.

THE CLAIRVOYANT: My fave song on the album. Sweet Bass intro and excellent solo. Pretty good lyrics as well.

ONLY THE GOOD DIE YOUNG: An average song but quite enjoyable.
---
A great album! All songs are superb, although Only the good die young is not one is listen to much, and Can I play with madness can be a bit lame. Infinite Dreams is my fav from this album, such a good song, great lyrics and amazing instrumental parts. The title track is incredible, listen to it and try to agrue with me! Enough said. The clairvoyant is solid and the evil that men do is very catchy. This album is one of their best for sure, its in my top 5 fav albums of theirs.
---
This album is about the 7th son of a 7th son. The songs are really good, both the lyrics and the music, it's really great! There is not a bad song on this album ,they did a fucking good job on this one!! But it's the last album with Adrian Smith!
Then he just left! The albums where never the same again without him!
---
Another masterpiece !! Only good songs on here.
---
Seventh Son is the amazing concept album showcasing the climactic brilliance of the longest running line-up in maiden history (before adrian left). 7th son is groundbreaking all the way through, and not one song can be dismissed off this album. If you have never seen or heard this tour live, its amazing. Moonchild, the clairvoyant, and 7th son come alive on stage, not to do injustice to the brilliant studio sound of infinite dreams, the evil that men do, and can i play with madness. My only regret is that Only the good die young was never played live. this is maiden at its most creative.
---
Incredible album. One of the bests, undoubtely. A concept album, almost a heavy metal myth. In this album maiden find it´s sound that started with somewhere in time...probably the most excellent thing in this record is Adrian´s guitar skills..supreme!! All itself is amazing...seventh son of a seventh son is really an incredible result. The end of the golden era couldn´t had been better.
---
Another classic album folowing on from somewhere in time. The syth guitars are still prevelent. Musicaly a good, however maybe slightly too polished I fing I tire of some of the songs on this album after a few times listening to it.
---
Hailed by many as Maiden's masterpiece. While my personal favorite is Somewhere in Time, I guess I'll have to agree with the masterpiece-description, but then again most Maiden albums are masterpieces. Anyway, this album is extremely melodic and offers some really brilliant twin guitar pieces... and of course, Bruce's vocals are great, as always. As with Somewhere in Time, where they experiemented with guitar synths, this albums sees heavy use of electronic instruments, in this case keyboard synthesizer. Fortunately, the keyboards fit in very well with the rest of the music, which is still very much guitar dominated. This way Seventh Son... does not suffer from the same problem that many metal albums using keyboards did in the 80s, where the keyboard almost took over as the most dominant instrument. Yeah, Seventh Son... is a masterpiece.
---
i cant believe smith left in this album also blaze bayley replaced dickensun as drummer...by the way U ALL SUK HAHAHAHA
ps:ZE VALD SHALL BE MINE
---
Seventh Son of a Seventh Son is easily the best heavy metal record ever recorded.

That's that. Nothing more to be said. Listen to it, and if you don't love it.. you're a moron and I hate you. ;)