Fear of the Dark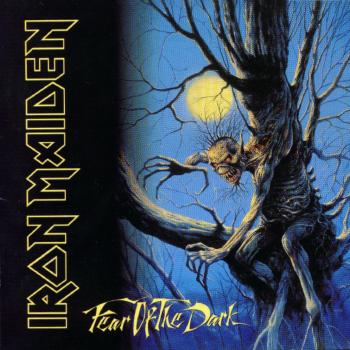 Fan Rating:
Unavailable /10
(from 0 votes)
Tracklist
Be Quick Or Be Dead
Dickinson, Gers
From Here To Eternity
Harris
Afraid to Shoot Strangers
Harris
Fear Is The Key
Dickinson, Gers
Childhoods End
Harris
Wasting Love
Dickinson, Gers
The Fugitive
Harris
Chains Of Misery
Dickinson, Murray
The Apparition
Harris, Gers
Judas Be My Guide
Dickinson, Murray
Weekend Warrior
Harris, Gers
Fear Of The Dark
Harris
We said …
The first thing about Fear Of The Dark that leaps out and kicks in the arse is the cover artwork, which for the first time in Maiden's career is not by Derek Riggs. This picture is by Melvyn Grant, who has a long resume of cover artwork on many popular fantasy and horror novels. Apparently the band liked Grant's picture better than Riggs'.
Fear Of The Dark represents the end of another era for Iron Maiden — after the tour, Bruce Dickinson left the band to begin a solo career until his return in 1999. Unfortunately, one can almost sense Dickinson's discontent on this album. He continues the rough and raspy style of singing that we first heard in No Prayer For The Dying and on a few songs it sounds like he has completely lost his voice. Ironically enough, his traditional clear and powerful voice returned on his solo albums, some of which are extremely good.
Fear Of The Dark was digitally recorded and mixed at Steve Harris' own Barnyard Studios in Essex. As with No Prayer For The Dying, there are still some traces of synth on the album, but much less noticeable than in Somewhere In Time and Seventh Son of a Seventh Son.
Charted at number 1.
13 Reviews
---
A lot of people don't like this album at all, but I do, kinda. Not really as an album, because it's Maiden's most uneven release to date, but there are a few individual monsters here that will kick your ass like you didn't know what hit ya. Of course I'm talking about Be quick or be dead, Afraid to shoot strangers and the title track, which I think is the best Maiden song since Aces high - it's fantastic. And the band knows it, because they have made it a concert regular ever since. Be quick or be dead is a typical fast, short single-rocker, fulfilling its album-opening duties and then some, and Afraid to shoot strangers has one of the best "long riffs" (I call them "harmony lines", you know, when they use short solos as riffs) they ever wrote. It's a slow starter, but well worth the wait and that's a promise. On the other hand, there are a few blunders present as well. Really, crap like The fugitive (they did Aces high lite on the preceding album - behold The prisoner slim!) or The apparition (my God, this song sucks) should not be allowed to be recorded in the first place, let alone stain a Maiden album. But since there are a dozen tracks here and nearly an hour worth the music, a couple of flunk shots are acceptable. Cut the mistakes out and you have a Maiden album of "classic" length with 6-7 strong tracks and a few decent ones. The other good songs? Well, Weekend warrior is lame in itself, but has a splendid lead break embedded in there somewhere. Chains of misery is kinda weird, but rocks - and it has an attempt to make a macho-chorus! By Maiden! - Gotta love it. From here to eternity is good and Childhood's end ain't bad...hmmm, I think that's it. This was the last Maiden album produced by Martin Birch, part of the staff since the glory days of Killers. Also the last album with Bruce Dickinson, who I with hindsight can say was smart enough to realize the band was on a doomed streak. I mean, I probably like this album more than the average fan, and I know Bruce was unhappy with Steve's way of handling things, and understood that the band was painting themselves in a creative corner. Still writing good songs, but more or less just reflections of the past, thus falling more and more behind the times with every release. They needed change, but none was imminent. I can't tell if it was the same with Birch, but seeing as the guy is one of the most professional and renowned metal producers out there, I wouldn't be surprised. Even Derek Riggs bailed out before this album, but the cover art by replacement Melvyn Grant manages to come out one of the creepiest I've ever seen. The itty bitty CD-sleeve doesn't do it justice - but hey - that's what posters are for! I'd rank this album equal to No prayer musically, but as a whole better due to the very generous song selection. Gotta give it a few tries though.



Best songs: Fear of the dark; Afraid to shoot strangers; Be quick or be dead




---
My personal favourite, in my opinion maidens best album (i know a lot of people would disagree). The albums title track is my favourite maiden song, and there are other classics like tailgunner, hooks in you and bring your daughter...to the slaughter. Also easily the best cover art from a maiden album.
---
Great album, Fear of the Dark is awesome. Wasting Love, Afraid to Shoot Strangers, From Here to Eternity and Be Quick or Be Dead are my favourites on this Album.
---
FEAR OF THE DARK: Well, first of all I can't believe some people don't like this, I mean with tracks like FEAR OF THE DARK,BE QUICK OR BE DEAD, FEAR IS THE KEY and CHAINS OF MISERY, this is a brilliant album. Well the sound quality is too faraway and you have to turn it up more to hear it. Sweet cover. Pity BRUCE DICKINSON had to leave after that.
You know...... BE QUICK OR BE DEAD might sound good by BLAZE BAYLEY. Maybe it's just me.........
---
This is kinda of a different album for Maiden. It is much more polished than No Prayer. There are some wicked tracks on here: Be Quick, Afraid TSS, Fugitive, Fear of the Dark. The song has FOTD has been a concert favorite ever since and is always played live. It seemed a little commercial though with the gang vocals on the choruses of From Here to Eternity and Chains of Misery. Not much else to say really except i don't give it a whole lot of airplay in my house. If I want Fear of the Dark I usually roll with what's on a Real Live One.
---
Fear of the Dark is one of Maiden's best songs ever, perfect for live performances. Some songs are on here a definitely below par for Maiden, but still good music! Afraid to Shoot strangers, childhoods end, and be quick or be dead are all great songs. But the apparition, chains of misery, fear is the key and the fugititve are not prime Maiden material, not by a long shot, but they are decent songs. Weekend warrior is a good song, even though some people seem to slag it. One thing i have to mention is Judas my guide, what a great song, underrated song! So catchy, one of the catchiest choruses I've ever heard, it gets stuck in my head so easily. This album is not solid overall, but the title track makes is one any true Maiden fan has to own. Although any true Maiden fan should own every studio album and most official live releases, like I do!
---
Only 5 good songs on this album. They sound tired.
---
Fear of the Dark, Afraid to Shoot Strangers and Be Quick or be Dead are excellent. 2 or 3 more tracks OK, but the rest (like Fear is the Key, From here to Eternity, Chains of Misery etc) are crap.
---
Weaker than No Prayer, Fear of the Dark still follows in its footsteps in the same style of material. The departure from the classic sound works great in some ways and is missed in others. Be Quick, Here to Eternity, Afraid, Fear is the Key, wasting love, are all good songs but not excellent. Judas My Guide and The Apparition are actually stellar. Although songs like The Fugitive, Weekend Warrior, chains of misery and childhoods end all drag the album down somewhat. Live versions of Fear of the Dark, Afraid to Shoot, and Be quick or be Dead are fantastic however. Be sure to own Donington '92. its a great production.
---
This album is much more better than No prayer..I think this lineup really put it all out together and knew well each other in this album. It has incredible songs, being the best for me afraid to shoot strangers, one of the best maiden songs ever. Generally it is the best maiden`s record of the 90s.
---
Only two really great songs (Be quick or be Dead and Fear of the Dark) surrounded by average songs. Gets a boost though because the artwork is AWESOME
---
This album is generally more popular than No Prayer for the Dying, but I personally like No Prayer... better. I think the begining of the Maiden crisis of the 90s starts with this album. It does contain mostly great songs like the title track and 'Be quick or Be Dead' as well as the typically Maiden 'The Figitive', 'Childhood's End' and so on. The two ballads 'Afraid to Shoot Strangers' and 'Wasting Love' are also interesting, the former being betwwer than the latter in my view. It also contains some darker and different tunes like 'Fear is the Key' and 'Judas My Guide' which are actually very good and could have been an interesting musical development, adding a new perspective on what is Maiden. But there are many songs that are just not Maiden like "Weekend Warrior" and "The Apparition". They are good rock songs, but far below the Iron Maiden standard. i think also the guitar melodies are not as catchy as on previous albums, and while still twin guitar, they often involve both guitar playing in unison and unitone, rather than using harmonics. This takes the edge of many of the guitar melodies. Also, the guitar melody pieces themselves are somehow less interesting than on previous albums, "Wasting Love" actually offering some of the most interesting guitar melody on this album. While a great album, there is something missing.
---
exceptional guitarwork, yet it seems a little bit stale. as much as i like this album, it only gets a 7 from me. at this point maiden was getting slightly feeble, although it does feature the title track and the great be quick or be dead. it is incredible, but definitely not their best. i think the blaze period did justice to this, though i am mainly a bruce fan.