Brave New World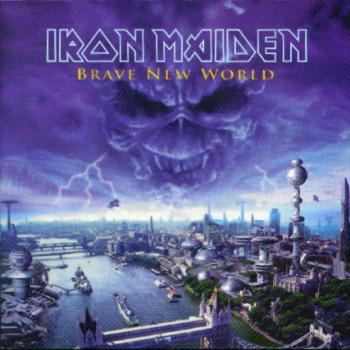 Fan Rating:
Unavailable /10
(from 0 votes)
Tracklist
The Wicker Man
Dickinson, Harris, Smith
Ghost Of The Navigator
Dickinson, Harris, Gers
Brave New World
Dickinson, Harris, Murray
Blood Brothers
Harris
The Mercenary
Harris, Gers
Dream Of Mirrors Harris, Gers
The Fallen Angel
Harris, Smith
The Nomad
Harris, Murray
Out of the Silent Planet
Dickinson, Harris, Gers
The Thin Line Between Love and Hate
Harris, Murray
We said …
Brave New World marked the long-anticipated reunion album featuring the return of Maiden powerhouses Bruce Dickinson and Adrian Smith. Due to the high emotion surrounding Iron Maiden's return to their golden-era lineup, this album faced almost impossibly high expectations, of the sort that are rarely if ever fully met. But amidst all of this hype, Iron Maiden has exceeded all expectations and produced an album that is the equal of any album since their golden era of the 80s.
At first glance, Brave New World is a progressive album which fits most closely into the same category as Somewhere In Time and Seventh Son of a Seventh Son. Although the guitar and bass synths have been jettisoned in favour of a real keyboard (played by Steve Harris himself), the overall style and mix of the synthesizers are similar. Likewise, the guitar sound has returned to that of the late 80s and Bruce's vocals are once again in top form. Yet upon further introspection, Brave New World seems to be an amalgamation of many different elements drawn from each of the albums since the late 80s — the occult themes of Seventh Son…, the social awareness and politics of No Prayer for the Dying and Fear of the Dark, the personal introspection of The X Factor and the emotional depth of Virtual XI.
18 Reviews
---
Iron Maiden have always rocked, even in the dark years with Jannick and even Blaze. Now to start out this no doubt is maidens best album yet. The drumming is spectacular as usual since its good ol Nicko, screamn siren bruce is here and bass Cant go wrong with the legendary Steve Harris. The 3 guitar line up is spectacular, with Dave, Adrian, and Jannick are just soaringly incredible. Most people think Jannick was what ruined them originally, but you know its not true. Jannick was just very raw and very wild nothing wrong with that. Most of peoples favorite tracks on this album were actually written by him. Just accept the fact that maiden had to replace the great adrian smith and they replaced him with someone dynamite. Enough said about Jannick. Anyway every song is excellently written and played there isnt one bad song off here.



Wickerman-spectacular song and great solo by adrian, strange lyrics they really jam on this one. (Solo by Smith)



Ghost of the Navigator-this is spectacular song, awesome lyrics and Jannick's solo is just dynamite he tears that guitar up,not a very good guitarist huh?(Solo by Gers)



Brave New World-Powerful smooth tune with some very powerful lyrics and excellent solos by Dave&Jannick as always. (Solos by Gers/Murray)



Blood Brothers-Jethro Toll influence on steroids indeed. An incredible song with superb bass, vocals are so deep and the guitar playing was so powerful, they really played this song with their heart and soul.(Solos by Murray/Smith, bridge by Gers)



The Mercenary-This song really rocks, they really jam and you get to hear Jannick play the bridge repeatidily, while Dave's solo is just like the fastest solo played in metal history and then Adrian comes in with a smooth paced solo as well, very raw tune and a metal classic.(This is one of maiden's most heaviest songs, so yes, jannick delivers the old fashioned maiden chemistry as well.)(Bridge by Gers, solos by Murray/Smith)



Dream of Mirrors-Superb very long tune, great melodies,incredible lyrics. Perhaps the greatest guitar solo in metal history, Gers never stops moving his fingers across the board, he plays the guitar the way its supposed to be played. The most complex maiden song aside from Sign of the Cross. (Solo by Gers)



Fallen Angel-Great fast tune deep, religious, and exciting.

Terrific solos by all 3 of the boys back to back: First Adrian, Dave, then Jannick, talk about a complex thing to do, having 3 different guitarists delivering 3 solos back to back.(solos by Smith/Murray/Gers)



The Nomad-Superb interesting song, dynamite solos and the melody in the middle of the song of bass and smooth guitar is just incredible and will make you want to just be desincitized. (Solos by Gers/Murray/Smith)



Out of the Silent Planet-Perhaps the rawest song on here, opening with the superb guitar solo nothing else greater, with some of the best lyrics of our time. This is all Jannick on this one. Very heavy and raw, not maidenish?(Solo by Gers)



Thin Line Between Love and Hate-Metal classic, very transcending lyrics so true and deep, and a wonderous closing, and Dave nailing the guitar down repeatidly as well as adrian and jannick delivering a piece.(Solos by Murray/Gers, bridge by Smith)



Maiden are metal gods, this is maiden's best yet, now that doesnt mean it has to be your favorite maiden album, but talent wise as well as complex, it is their best. If you luv real talented metal, this is for you, get it now. It doesnt have their old sound, maiden doesnt have an old sound, all of their albums in the 80's were heavier or more mellow then others, there is only more melody here, these boys still have it, and will always have it. You can be in a calm mood as well as a headbanging mood to enjoy this album. Cant wait till their next album, and in my opinion as a guitarist, if you think they need to get rid of Jannick then Maiden is not for you






---
Hard to explain the devine feeling. Maiden took me back in time, sure did, and the album made me realized how much I missed Bruce. The ablum is mixture of Piece of Mind, 7th son and Virtual 11. First 6 songs r very very very strong, reminds me of the old kicks, the Lyrics..Stronger than ever. The last four didn't left much special impression on me, may be because its the first time I am listening to it, I hope it will grow......The guiter attack kicks, and kicks, and kicks, the most devine feeling I ever had, just too perfect, If u r a IM fan, u would know dave's guiter, and adrian, like they r talking to each other, so prominent, and OH christ yet there is Steve( the best producer, and player), u can here his BASS, the tapping sound is so perfect. I am glad Bruce is back, he sure can SING. May be the best thing happen to IM. Don't under Estimate the power of IM though, cause IRON MAIDEN is IRON MAIDEN, not about BRUCE alone, well I loved his solos. As a fan from 1986, I realized that each is of them is unique, can't be compared, and IM is about the music they create, and yes, bruce got one of the best vocal...and this is a fan who will spend his last DIME in IM. But I needed a break from the NO PRAYER and FEAR OF THE DARK, is it the producer? U tell me! Seems like Steve, nicko, and Dave was there, the rest were missing....Well enough of it.. each song stands for itself..if u r a Maiden fan, this is a must for u, so is for any metalhead, or else your collection is incomplete......Well I can't stop writing...cause I am listening to BNW nowwwwww, dang I take some part of my review back. All 10 song kicks....regardless...the best maiden ever...Bruce sure did made a difference, and they deserve a 10*, and newer bands in ol USA, listen to this ablum and learn a thing or two. Finally I have such respect for the band memebers and the band, maiden kept that promise, steve u r the best...this album will tell u that there is one and only one Heavy metal band that will show u how 1 can come back and take u back in TIMEEEEEEEEEEEE,,, through a new album and



AAAAAAAAAAAA BRAVEEEEEEEEEEE NEWWWWWWW WORLDDDDDD




---
A great come back album, the Wicker Man is one of my favourites on this album.
---
UNBELEVABLE definately A tied 1st with POWERSLAVE .
THE WICKER MAN, the best opener on any album.

GHOST OF THE NAVIGATOR, WHOA best intro in the history of the world. Amazing Lyrics and solo.

BRAVE NEW WORLD, excellent intro and a brilliant chorus. Good Solo.

BLOOD BROTHERS, A really good song. It's my brother's, and my friend's fave song.

THE MERCENARY, Killer solo and a great riff. One of the best on the album.

DREAM OF MIRRORS, A masterpiece, nothing else just a masterpiece.

THE FALLEN ANGEL, Great riff and chorus. Great lyrics.

THE NOMAD, The best song on the album, no doubt. One of their best songs ever. I think it should have been just an instrumental instead.

OUT OF THE SILENT PLANET, one of their best songs ever.

THE THIN LINE BETWEEN LOVE AND HATE, A brilliant solo and chorus.
---
Yep I basically agree with all these other guys. Just want to say if if you haven't already you should hear Bruce's original Wickerman. It's on a bonus disk he used to package with his Best Of Bruce album. The bonus disk was only packaged with it for a limited time, but it's worth checking out. The original Wickerman by Bruce is totally unrelated to the Iron Maiden one. I think Steve just really liked the name. anyway Brave new World is the best album since 7th son and kinda sounds like what should've came right after 7th son. That's praise enough I think.
---
Amazing album. Bruce and Adrian rejuvenated the band when it was much needed. Every song is amazingly superb, except the useless, piece of crap The Mercenary. Please, lord have mercy this is garbage, this is the only song on any Maiden album that I usually skip. There are other songs from other albums that I'm not crazy about but I still listen to them. The Mercenary is the only Maiden song I can actually say that I think is bad. The chorus is too repetitive and lame, and the riff is just the same damn E, C, D, shit! At least if your going to make a song with the classic Maiden chord progression, then at least make it a good song! Absolute garbage. But its still better than most songs by other bands. HAHA. Maiden rules! Get this album, definitely a great album.
---
IRONMAIDEN133, you tell that fucker in front of you, how dare he say THE MERCENARY IS SHIT! TYOMMI, i respect other people's opinions, but you sir (or madam) are completely mad, and this is coming from a psychotic person.
if you insult THE MERCENARY, you insult Janick Gers, Steve Harris and the rest of Iron Maiden. and a lot of fans
---
Okay, I may have been harsh. The Mercenary is not shit, I just don't feel its as good as the other songs on the album. I like all Maiden songs and Maiden music in general, but I just feel that this track does not measure up to others. I still said it was good music for crying out loud! There's no need for name calling. And as far as the Argentinian crap, I think its bullshit! I never want Maiden to break up, and I don't think for a minute that they will. Just because I don't think the Mercenary is a great track doesn't mean I'm not a huge fan. I wouldn't have been on this website if I wasn't. I saw them 3 times within 2 years. They are the best metal band ever and always will be.
---
I would like to thank Tyommi as he said THE MERCENARY is not crap. Thank You!!
---
A strong record with good chorus and melody. Bruce is back and he sings like he did in the old days. The best songs are The wicker man, Brave new world, Blood brothers, The mercenary, Out of the silent planet. The weaker songs are Ghost of the navigator, The nomad, Dream of mirrors.
---
a great comeback every song is good its the return of iron maiden with a great lineup the guitars are great the bass is great the drums are great and th vocals are awesome with bruce dickinson.
blaze bailey kiss your ass goodbye for ever
---
It´s a good album, very good effort because now there are three guitars to fill the spaces and it´s very difficult to find the right way and sound. This one´s not of my favourites, but I do care maiden´s effort to make it. And they did it well...they made it the best in dance of death, but this was a good beginning...Dream of mirrors and the nomad are the best songs in this record
---
Great reunion album. Tons of new concepts are introduced here, and bruce comes back swingin. although slightly lacing in the typical maiden complicated melodies, it introduces what they failed to do with fear of the dark which is catchy tunes and good chorus lines. Ghost of the Navigator, The Wicker Man, Dream of mirrors, and out of the silent planet are excellent. Brave New world, blood brothers, the mercenary, the fllen angel and the thin line ar eall good. Looking at the album as a whole, its lack of poor tracks really make it a great listen! Dream of Mirrors is probably the only song that is better live than on the album, but Rock in Rio is still fantastic.
---
Brilliant return of Dickinson ans Smith. You can feel and hear their prescence where they both truely belong in maiden.
This album ahs some fantastic work on it. Brave new world, is a gretful return to the form of true iron maiden. This album has probably saved maidens existance.
---
This is, without a doubt, the logical progression of Maiden following Seventh Son of a Seventh Son, and there are some incredibly special moments here. The album is perfect. Each song melds into the next. Wowbobwow
---
This album rocks like no other. Wicker Man is the perfect opener. Ghost of the Navigator is incredibly beautiful. Brave New World is melody incarnate. Dream of Mirrors is profoundly true. Nomad is moving. The Thin Line Between Love and Hate closes the circle magnificently. And every song inbetween is the right song for the album. Up the Irons!!!
---
Rebirth! Bruce, one of the greatest rock frontmen is back. Adrian is back. Three guitars. This album is magnificent. Virtually all songs have great catchy choruses, and Bruce delivers beatlifully perfect vocals on all songs. After two albums with realtive weak compositions, this one displays nothing but great composing skills. It's like Maiden takes the best of their 80s era, the good elements of the Blaze era and combine them with something wholly new on this album. The musics at the same time hard hitting, prog and melodic. And the three guitars works great. The combination of Smith's meticulous style, Murrays's improvisational style, and Gers' dynamic style results in a unique wall of guitars combining three unique style from three of arguably the best guitar heroes of all times. Really, if Seventh Son... was a masterpiece, so is this one. It's full of energy and catchiness. Maiden was reborn in Y2K!
---
I like this album a lot, Especially Brave New World, Blood Brothers and Ghost of The Navigator.
I don't like Dream of Mirrors.